Stockholm is indeed a beautiful city with the islands and the water surrounding them. Not to mention all the wonderful buildings. But where should you go the get the absolutely best views of the city? Here are our favorites in the Southern Island (Södermalm).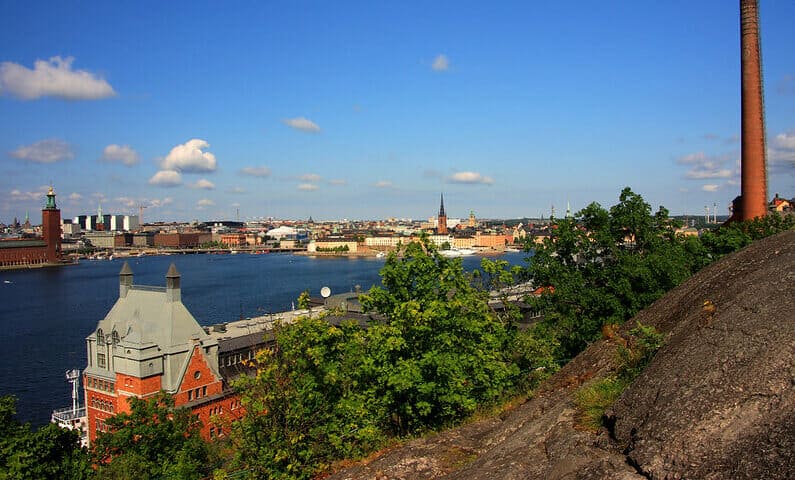 The stunning view from Skinnarviksberget – Photo: © Guillaume Baviere/Flickr
Skinnarviksberget is 53 meters above sea level, which makes it the inner city's highest point. During the summer, the rocks are ideal for a picnic, and Skinnarviksberget offers you a spectacular view, including Riddarfjärden, Norr Mälarstrand, Old Town, Stockholm City Hall, and many churches.
To get to Skinnarviksberget, you take the subway (red line) or bus number 4 to Zinkensdamm. Once there, you walk up Yttersta Tvärgränd, a charming little street. When you have reached the end of the street, continue to climb up on the cliffs (remember to be careful). Behind them, you will get your reward.
Gamla Lundagatan, Södermalm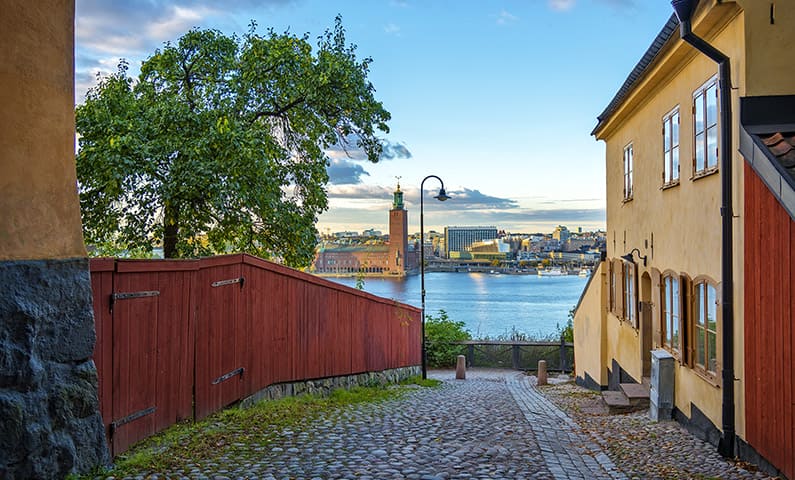 Monteliusvägen – one of Stockholm's top spots for fantastic views
Another nice viewpoint is the beautiful and somewhat hidden walking lane Monteliusvägen. It is 416 meters long, starts at the street Kattgränd and ends at Skolgränd. Along the way, there are several terraces and park benches, and from here there you have a stunning view of Riddarfjärden and the Old Town. You will also see several old houses in an environment that feels like Stockholm from past centuries.
The easiest way to get to Monteliusvägen is to take the subway to Mariatorget (red line). From there, you walk up the street Blecktornsgränd until you reach the top. There you will see a sign that leads you to Stockholm´s absolutely most beautiful walking lane.
Monteliusvägen, Södermalm
Fåfängan – Photo: © Holger Ellgaard/Wikimedia Commons
Fåfängan is a popular destination and is located on a mountain covered with trees near Danviken on the way from Södermalm to Nacka. It's a stunning viewpoint and has a restaurant and a café with a nice brunch on the weekends.
You can walk to Fåfängan from Slussen, but it will take you a while. Another option is to take the bus (get off at Londonviadukten) or a car. If you walk or take the bus, you can take the stairs starting at Londonviadukten, but be prepared for quite a challenge since the stairs are pretty long. The alternative is the road Klockstapelsbacken which you'll use if you take a car.
Klockstapelsbacken 3, Södermalm
View from Per Anders Fogelström's terrace on Fjällgatan – Photo © Holger Ellgaard/Wikimedia Commons
Fjällgatan is a street located on Stigberget between Erstagatan and Renstiernas street at Katarinavägen. With its 27.8 meters, it's famous for its beautiful view of Saltsjön and the central parts of Stockholm. You'll also enjoy a nice environment with cafes and lots of lovely old houses on your Fjällgatan stroll.
To get here, you can walk along Katarinavägen from Slussen.
Enjoy the best views of Stockholm. Happy viewing!
Find the best room escape games on the map
| Title | Address | Description |
| --- | --- | --- |
| | Stor, 169 86 Stockholm, Sverige | |
| | Monteliusvägen, Stockholm, Sverige | |
| | Klockstapelsbacken 3, 116 41 Stockholm, Sverige | |
| | Fjällgatan, 116 28 Stockholm, Sverige | |
Find the views on the map
| Title | Address | Description |
| --- | --- | --- |
| | Stor, 169 86 Stockholm, Sverige | |
| | Monteliusvägen, Stockholm, Sverige | |
| | Klockstapelsbacken 3, 116 41 Stockholm, Sverige | |
| | Fjällgatan, 116 28 Stockholm, Sverige | |