Djurgården, the green oasis on the edge of Stockholm's Östermalm district, has been a royal hunting ground and park since the 1400s. It's adored by both Stockholmers and visitors for a good reason: it's a peaceful place, located just a short stroll from Stockholm city, where you can find respite from the city hustle and bustle. And for children, Djurgården is filled with fun and delight.
Junibacken is a paradise for the little ones
Junibacken
is a fantasy house and
museum for children
and is named after the fictional house where Swedish author Astrid Lindgren's children's book character Madicken lived. One of the most enchanting things about Junibacken is the Story Train. It takes your kids on an exciting journey through the many wonderful stories of Astrid Lindgren. Also, it introduces many other famous figures such as Alfie Atkins, Festus and Mercury, and Mulle Meck.
Junibacken is a house that bubbles with stories, laughter, and familiar figures that are brought to life. There's also a 'workroom,' where the kids can build, invent, and create in a space filled with laughter and care.
Galärvarvsvägen 8, Djurgården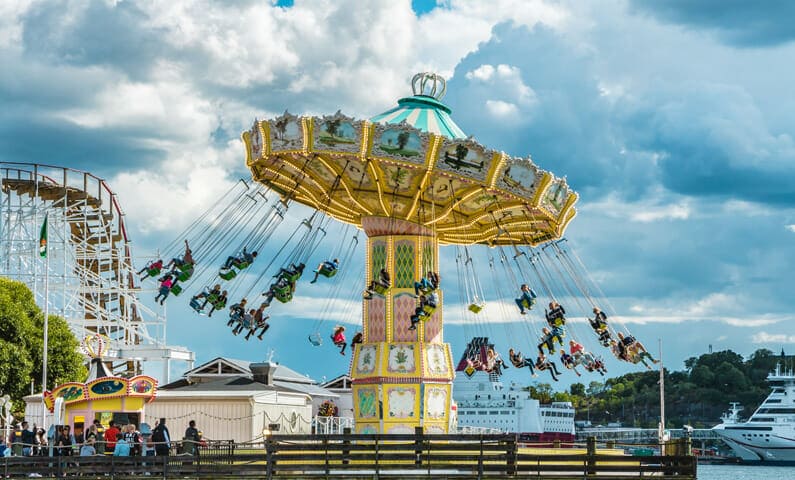 Gröna Lund offers a lot of fun rides
Stockholm's legendary amusement park, Gröna Lund, is perfect for giving your kids a day they'll never forget. There are, of course, a multitude of rides for kids of all ages, with the park having a special section for the little ones. There are fast, high, whirly, chilling, thrilling, and downright wonderful (and scary!) rides, but also old favorites like the bumper cars, love tunnel, and fun house. If you need a breather between rides, try your hand at the games – there's nothing like winning a gigantic bar of Sweden's favorite chocolate, Marabou, which you will have to wait to open until after you wrangle it back to your hotel.
Gröna Lund is Sweden's oldest amusement park, and there are not only rides and games but also a theater and concerts. On the main stage in the center of the park, both Swedish and international performers strut their stuff. It's worth checking listings ahead of time because during nearly 100 years, musicians as diverse as Jimi Hendrix and Lady Gaga have performed on the legendary Gröna Lund stage.
Lilla Allmänna Gränd 9, Djurgården
Skansen is a favorite for the kids – Photo: © yegorovnick/Shutterstock.com
Skansen, founded in 1891, is the world's first open-air museum and is a firm favorite for kids. Stroll through five centuries of Swedish history, taking in historical buildings and dwellings that were brought from all over Sweden, as people in historical dress fill you in on the details. Often glass-blowers and other traditional craftspeople are on hand plying their trades – and they'll usually invite you to join in and try your hand at things.
Once you've had your fill of Swedish history head to the zoo, where there are a small petting zoo and a bigger area featuring seals, brown bears, lynx, wolverines, Swedish elk, and even reindeer. In total, about 75 different species of Scandinavian animals are represented at Skansen. While the more exotic is exciting to see, there's something wonderful about jumping into the goat enclosure and getting up close and personal.
Also not to be missed is the Skansen Aquarium, with its World of Monkeys, as well as the exotic species area, where you might get lucky and get to pet a tarantula. There are also regular markets (including the excellent Christmas Market), a top-notch gift shop, a train that takes you around the park, and horse rides.
At Stockholm's Skansen, there is something fun happening every day – it will be impossible for your children to get bored!
Djurgårdsslätten 49-51, Djurgården
Vasa Museum is exciting for all ages
At Stockholm's Vasa Museum (Vasamuseet), you'll find the mightiest warship of its time, the 69 meter-long Vasa, which sank in Stockholm Harbour in 1628 on its inaugural voyage – and wasn't found until 1961.
In addition to the centerpiece restored ship, ten other exhibitions are focusing on life on board the ship, giving insight into another time, when life was very different. The cinema in particular, which features a film exploring the history of both the ship and its salvaging, is all part of the Vasa bringing history to life. Today it is also the only preserved seventeenth-century ship in the world. And even though it has been on the seabed for 333 years, 95 percent of the ship is original.
Be sure to stop by the excellent gift shop, one of Stockholm's best. The restaurant serves classic Swedish food at reasonable prices.
Galärvarvsvägen 14, Djurgården
Vikingaliv – The Viking Museum
The Viking Museum is an exciting adventure for the whole family
Stockholm's Viking museum in Djurgården,
Vikingaliv – The Viking Museum
, is a must on the to-do list in Stockholm if you have history-interested children in the family. Here, the children can learn all about the mythical Viking age in a fun and exciting way. Who were the Vikings? How have they become known – and disreputable – in the whole world?
Among other things, you get to meet two re-created Viking people and experience the Vikings' raids and tough life at sea. Of course, you can also try on Viking helmets. And don't miss the most fun of it all: the 11 minutes long adventure ride Ragnfrid's saga where you can go on a fascinating journey through the Viking Age (suitable from 7 years).
If you visit The Viking Museum during the weekend or on holidays, there are special fun exhibitions for children where they can discover the Viking age with all their senses. For example, they get to look and feel objects, taste the Vikings' food, and try needlework. At other times, there are regular guided tours that enlighten your experience. If you feel hungry after exploring the museum, we recommend a visit to the restaurant Glöd, which serves everything from salads and pastries to the rustic Viking pan. And of course mead as well!
Get ready for a real adventure for the whole family!
Djurgårdsvägen 48, Djurgården
Other activities in Djurgården
In addition to the above, Djurgården is perfect for walking. Two of the best walks are at Djurgårdsbrunnskanalen and Blockshusudden. Grab a picnic, spread out your blanket, and enjoy a lovely family gathering while you rest your feet. Alternatively, try one of the many restaurants and cafés scattered around the island.
How to get to Djurgården
There are several ways to get to Djurgården. You can either walk, take the ferry Djurgårdsfärjan from Old Town/Slussen, the tram from Sergels Torg, or buses (44, 69).
We wish you and your family a pleasant day on Djurgården! And if you're looking for more things to do with your kids, check out our guides on the best playgrounds and things to do in Stockholm.
Find the child-friendly attractions on the map