Many people know him as Mr. Vodka. He got the 'nickname' after doing business with vodka and all other types of alcohol all over the world – for well over four decades. Now he's once again launching a new Swedish Ultra High Premium high-quality vodka in Russia – and globally.
Selling vodka to the Russians should be as hard as selling refrigerators to Eskimos. But
Per Jacobsson
did what not even Vin & Sprit (former Swedish government owned company that's now one of the ten largest liquor companies in the world) thought was possible. He introduced Absolut Vodka in a large-scale way in the old Soviet Union. And it went fast. Now he's almost 72 years old and about to have a big launch of a new Swedish vodka, in Russia and several other countries.
He describes the new vodka as 'smooth', and with a quality that the world has never tasted before, made of water from Malmköping in Södermanland and Swedish winter wheat. DQ Vodka, that's the name of the brand, is already on Systembolaget (the government-owned chain of liquor stores in Sweden).
"The vodka taste very good, and the quality is good both in terms of the actual spirits and the water."
"The vodka tastes very good, and the quality is good both in terms of the actual spirits and the water. The wheat being used is Swedish winter wheat that creates a smooth taste. The vodka is produced in Malmköping, and the water being used in the production is from there as well," says Per Jacobsson.
It's not just the vodka that's high-class. The special bottle has also been very appreciated, just like the Absolut Vodka bottle was in its time.
"The bottle is spectacular and contains a tube in the middle. This means that the vodka is mixed with more oxygen than usual when you pour it into a glass, which makes it 'smoother'. During my 45 years in the industry, I have never tasted a smoother vodka. It's 'probably the smoothest vodka in the world'," he jokes, obviously referring to one of the world's major beer producers.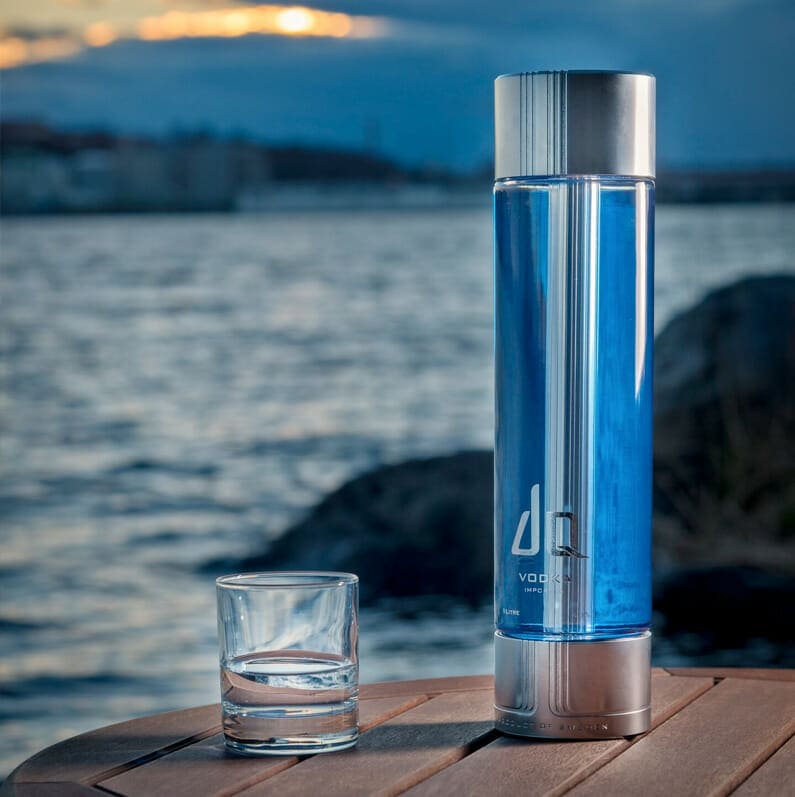 Per Jacobsson has been selling alcoholic beverages since the 1970's when he got the sales agencies for the two Soviet vodka brands Stolichnaya and Moskovskaya. If it's possible to sell Russian vodka to Sweden, it should be possible to sell Swedish vodka in the homeland of the vodka, he thought. And he was right; against the odds he got the agency of Absolut in Russia. He simply went to Vin & Sprit and asked them.
"They answered that I would get it if I could sell 75 boxes there during a first test year. So I began – and sold 750,000 boxes. The attitude at Vin & Sprit was that 'vodka can't be sold to Russians'," he says.
In three years, 12 million bottles of Absolut were sold in the former Soviet Union. It was the first vodka that had ever been imported to Russia.
"We sold so much that we had to raise the price. And when we did, we sold even more."
During that period, Per Jacobsson built a fantastic network, that's still left for the most part. They help him in the launch of DQ Vodka in Russia and globally.
But Per Jacobsson has handled more than just vodka. For example, he also had the agencies for Famous Grouse, Kronenbourg, and a number of different wines. When Remy Martin Cointreau wanted to buy Per Jacobsson's company, he sold and moved to Moscow, where he then lived for almost three decades.
"When I got the agency for Kronenbourg in Russia, I sold a container of beer every other week to the Soviet Union," he remembers.
We sold so much that we had to raise the price. And when we did, we sold even more.
He explains that his success comes from knowing the market, and how it worked, not only in Sweden and other western countries but also in Russia.
After a few years, however, Per Jacobsson had to give up the agency in the east. Vin & Sprit made an agreement with the big American corporate group Seagrams, who wanted to lay their hands on the Russian agency for Absolut. It came out to be an interesting affair for Vin & Sprit, but it did not turn out as Seagrams or Vin & Sprit had expected.
After one single year with new owners of the agency for Absolut Vodka, sales were down to zero bottles, after being 12 million during Per Jacobsson's time.
"I told Seagrams to continue to do business with the customers I had. If they've followed my advice, it had gone well, but they chose to work with others, and quite fast the Russian mafia had taken over. It did a joint venture and started making bottles in Croatia and Vodka in Hungary, which were then sold cheaply in Russia."
Per Jacobsson had contacts in Russia that protected him, especially when the Ukrainian mafia wanted to take over Absolut in Russia. The plan was to kill Per Jacobsson, but he got help from an influential Russian mafia leader, who was an advisor to Georgia's former president Eduard Sjevardnadze among others. In return, Per Jacobsson had to teach the Russian mafia leader how to dress, including how to tie a nice tie knot – as well as how to behave at fancier events.
He continued to work in Russia after the adventure with Absolut Vodka and got other products, such as Cutty Sark whiskey, and gin. He worked closely with the Putin administration, and therefore he did well.
In 2014, Per Jacobsson moved back to Sweden again, after living in Russia for the most part since the 1970s, and permanently since 1989. But he's still going strong. He has his contacts in the east, and he still sells alcohol to importers in Russia – in the form of rum from Venezuela.
He's now a partner in the company DQ Vodka AB, together with Tommy Lindström, the former head of the National Criminal Investigation Department, among others. It was Tommy who asked Per if he wanted to get involved in the new vodka company that was created when the assets and liabilities from old Nordic Spirits were sold at the company's bankruptcy.
You can spit them out. I haven't been drinking any alcohol in the last seven years.
"Now we've started where Nordic Spirits left off. We do things right from the beginning and start from scratch."
DQ Vodka has already been established in several EU countries during the nearly four months of operation.
"We're currently working actively, not only in Russia, but also in the United States and Canada, as well as in Asia, such as Singapore and Hong Kong. We're also making progress in Egypt and South Africa. So right now the challenge is to make sure we have products to deliver."
It has been going well, he says, and the cooperation with the distillery in Malmköping has been very good.
What is it that drives you?
"I think the brain still works, and I love this job with the huge network I've built up for years."
Since he started working at his father's gas stations in his youth – he owned and operated 15 gas stations in the Stockholm area – Per gradually moved on to other industries. First, it was the tobacco industry, even though he had never smoked. Then it was the Euroc Group, old Cementa, who had contacts with wine-producing countries. That gave him the chance to take over a company that he then sold to start his own company.
Per Jacobsson has been drinking everything from petrol to Chateau wines, as he uses to say. But he also worked in the tobacco industry for a few years – without smoking. You don't have to use what you sell, he says, even if beverages have to be tasted.
"But you can spit them out. I haven't been drinking any alcohol in the last seven years." It has contributed to his vitality and energy.
But during the Soviet era, it was 'heavy drinking'.
"When we signed a contract, it should be celebrated by drinking a bottle of vodka on two people. One bottle for each container. At that time we sold one per month. Then one per week, and finally one per day – or five per day. That's many bottles of vodka, but I could handle it since I've always been moderate with my drinking."
It's probably no surprise that people are curious about his own relationship with alcohol after so many years in the industry. The answer, when the question came?
"Yes, I've had problems with alcohol. To sell it!"
Name:
Per Jacobsson
Currently: Once again he launches a new Swedish vodka – in Russia
Brand: DQ Vodka. Produced in Gripsholm Distillery in Åkers Styckebruk.
Profession: Salesman
Born: 1945 on Kungsholmen in Stockholm. Grew up on Södermalm in an apartment on Götgatan 75. His father ran a chain of 15 petrol stations, where Per Jacobsson started working in his teens. "I grew up in different workshops."
Lives: Stockholm. He lived in Russia for several decades. He also resided on Mallorca for many years.
Family: Four children from three marriages. Was married to Grete Qviberg, well-known Swedish society lady. Three grandchildren.