Let's bowl, let's bowl, let's rock'n'roll! Don't you love bowling? It is the perfect mix of competition and entertainment that you can both do with friends, family, and workmates. And Stockholm has plenty of bowling alleys just waiting for you.
B
owling is a great activity for everyone, no matter what age you are, or your skill level. So are you ready to score? Show off your skills and bowl some strikes? Then here's your ultimate guide to the bowling alleys in Stockholm. And if you're looking for more fun activities in the city, you should check out our guides about playing
pool
and
padel
.
Bowling centers in central Stockholm
---
John Scott's is located on Kungsgatan and when you enter a genuine British pub environment greets you. They offer 16 high-quality bowling lanes that are available every day of the week. If you feel like eating or drinking something during your game, you can order something from the menu, and you can also dine in the restaurant with plenty of seats.
Kungsgatan 37, Norrmalm/City
The bowling center Lucky Bowl on Sveavägen replaced the classic Svea bowlinghall. With a New York inspired interior, a restaurant serving homemade burgers, lounges for relaxing, and a bar, this place isn't just about the bowling; it's about the experience. Lucky Bowl offers customized company events, after work, birthday bowling, family bowling, date nights, children's parties, etc. And look for their 'Lucky Hour' if you want to bowl at a good price.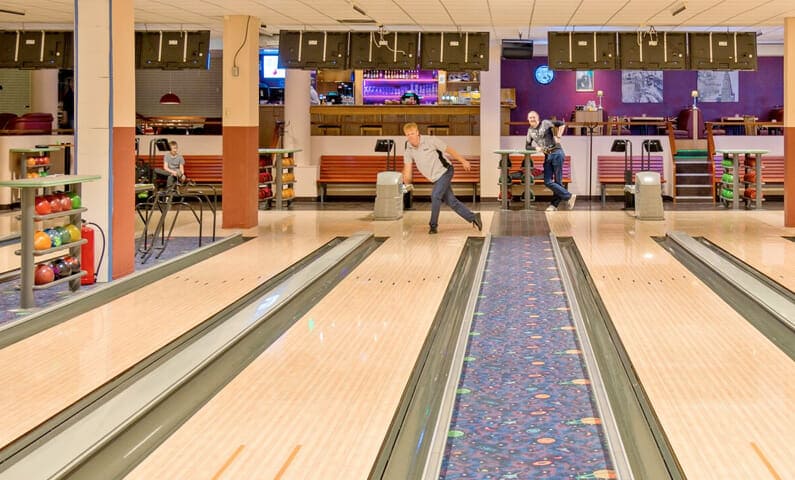 A bowling alley located on Kungsholmen. It has a fully licensed restaurant with several different buffets that you can combine with the bowling. It is a great place for parties, children´s parties, after work, or other events. The lanes can be adjusted for children if needed. Kungsholmens Bowling also offers disco bowling on Fridays and Saturdays from 5 PM and Sundays from 12 PM.
Sankt Göransgatan 64, Kungsholmen
Birka Bowling is located in central Stockholm close to Sankt Eriksplan, and since the early 1970s, it has been a natural place for bowlers. Several bowling teams practice in the center, and they have held many tournaments over the years. The facility offers 17 modern bowling lanes, a cozy restaurant, and a sports bar (Heja) where you can watch the latest sporting events. Moreover, they provide the possibility to rent a VIP lounge if you and your party want to play bowling and enjoy some privacy. In the lounge, suitable for up to 15-20 people and booked by the hour, you have access to three lanes, comfortable furniture, a music system where you can play your music, and a TV. Of course, the refrigerator is loaded with beverages of your choice.
BallBreaker is a large activity center on Kungsholmen that offers bowling together with many other fun activities like racing, dart, pool, football simulator, and golf. In the bowling center, you can find 18 high-quality lanes that meet international standards, integrated with a nice restaurant and a club environment. So if you are a professional player, this is the place to be. On the weekends, BallBreaker pumps up the volume, turn on the lights, and serves you a great disco bowling — definitely one of Stockholm's best. And of course, you can combine your bowling night with a nice meal in the restaurant and chilling at the bar.
Lindhagensgatan 114, Kungsholmen
O'Leary in Tolv Stockholm, a part of Tele 2 Arena, is not just a sports bar and restaurant, but a 4,000 square-foot activity center where you among other things can play bowling. The resort offers 15 modern bowling lanes, nine with disco bowling and six with an underwater theme (the only one of its kind). Other activities you can try at the same time is table tennis, billiards, basketball, racing simulators and themed adventure golf with 18 holes.
Tolv Stockholm, Tele2 Arena, Johanneshov
Rock & Bowl is a classic bowling alley in Stockholm, founded back in 1937. It's located on Hornsgatan close to Mariatorget, and here everyone is welcome to bowl and listen to cool rock music. During your play, you can also buy refreshments in the bar. Perhaps it is also the coolest bowling alley in Stockholm since it is the first in the world to have lit their courses with LEDs. They play rock videos every day, and from 5 PM on Fridays and Saturdays, they use lighting effects and large screens above the lanes – an unbeatable combination that you must experience. There is also children's parties and disco bowling if you'd like that.
New Bowl Center at Gullmarsplan, founded in 1960, offers bowling (16 lanes), restaurant, children's parties, disco bowling, bowling tournaments, a café, and a fully licensed bar with a good selection of drinks, snacks and several dishes. Why not try one of their food and bowling packages?
Simlångsvägen 50, Gullmarsplan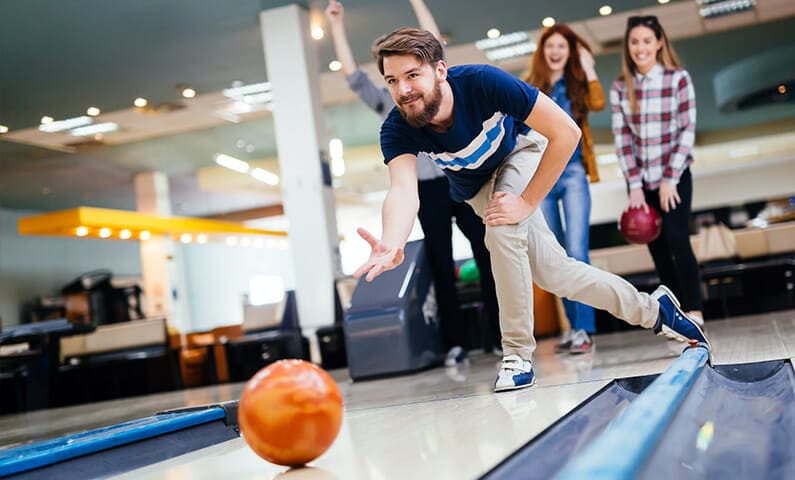 Bowl-O-Rama is located in Årsta Partihallar and is Stockholm's biggest bowling alley with 29 lanes. The facility also has a pub and a fully licensed restaurant, assembly rooms, three conference rooms, children's bowling parties, and disco bowling.
Perfect Strike Brännkyrka Bowlinghall
Perfect Strike Brännkyrka Bowlinghall is located in Midsommarkransen south of downtown Stockholm and is one of the city's oldest bowling halls. They offer nine modern bowling lanes, and also a restaurant, bar, café, four dart boards in a separate room, and a well-stocked shop if you want to buy a new bowling ball, shoes, a bag or some other equipment for your game. It's a great place to have fun with your family, friends or work colleagues. And why not try their popular night bowling?
Tellusborgsvägen 10, Midsommarkransen
We hope you will find a bowling center in Stockholm you'll enjoy. Happy Rolling!