Stockholm, like the rest of Sweden, loves Lucia celebrations, and while Sweden is a generally secular country the Lucia tradition dates back nearly 100 years and continues to captivate locals and visitors alike. Why Swedes have taken a 3rd century Italian saint to heart is anybody's guess but no matter: the ceremonies are captivating and well worth checking out.
While Sankta Lucia, as it's called in Swedish, is traditionally celebrated on the 13th of December there are concerts throughout the city all during the week, with processions of young people in white gowns – the girls wear wreaths of candles on their heads and the boys wear, well, cones.
The haunting, lyrical singing brings a hush from the crowds as they watch the children sing. And while random Lucia performers often pop up on the busy streets of Stockholm there are dedicated celebrations all over the city: in churches, work places, and schools.
Here are some of the best places to catch Sankta Lucia celebrations in Stockholm. Be aware that most concerts are very popular so it's best to book your tickets in advance.
Skansen
Stockholm's famed open air museum is all about the traditional Swedish Christmas and because demand is so high Skansen puts on a series of Lucia concerts at various locations around the park over three days.
Where: Djurgårdsslätten 49-51
When: December 10, 11 & 13
skansen.se
Storkyrkan
Storkyrkan – Stockholm's Cathedral – hosts one of the finest Lucia processions in a setting that is awe-inspiring. Storkyrkan is where royalty marries and major events are commemorated, so the sense of history is immense.
Where: Trångsund 1
When: December 10
svenskakyrkan.se
Stockholm City Hall
The Blue Hall (Blå Hallen) at Stockholm's City Hall is where the famed Nobel Dinner is held each year, and it's a magical setting in which to enjoy Lucia. The soaring ceiling height gives a special lilt to the singing, and you can enjoy glögg (Swedish mulled wine) and pepparkakor (ginger snap cookies) after.
Where: Stockholm City Hall – Hantverkargatan 1
When: December 16 & 17
international.stockholm.se/the-city-hall/
Adolf Fredriks Kyrka
Located in the heart of the city this church is cosy and enchanting. The concert is traditional and features some of Sweden's most celebrated musicians, including Danial Burstedt on oboe and Staffan Lundén Weldon on French horn.
Where: Holländargatan 16
When: December 13 (18 & 20.30)
adolffredrik.se
Solna Kulturskola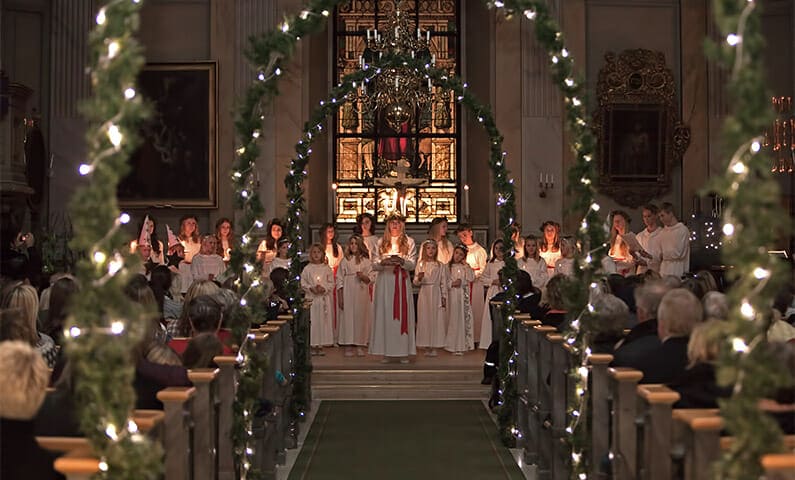 Lucia- Photo: © Bengt Nyman
Solna's Culture School features students singing traditional Lucia songs first in the library at Solna Centrum, then on the stairs outside the hotel. The event is free and while it doesn't have the bells and whistles of the one at City Hall there is something wonderful about the simplicity and joy of schoolchildren singing light into the dark.
Where: Solna Centrum
When: December 13 (16.30)
solna.se
Rosendals Trädgård
In the heart of Djurgården lies the magical Rosendals Trädgård, where you'll find one of Stockholm's most popular Lucia concerts and for good reason: it's simply one of the most beautiful settings in the city.
Where: Rosendalsvägen 38
When: December 11th (15 & 16.30)
rosendalstradgard.se
S:t Jacobs Kyrka
Stockholm's Musikgymnasium will perform under the direction of Helene Stureborg. With some of the country's best young musical talent performing you'll be treated to one amazing concert.
Where: Västra Trädgårdsgatan 2
When: December 11 (16 & 18)
svenskakyrkan.se
Oscarskyrkan
The two concerts on Sunday are free, while the two on the Tuesday are for the very reasonable price of 100 SEK – it's one of the best Lucia deals in the city and the location is fantastic.
Where: Narvavägen 6
When: December 11 (15 & 18); December 13 (19 & 21)
oscarsforsamling.se
Eric Ericsonhallen – Stockholm City Voices
For the third year running Stockholm City Voices will celebrate Lucia and perform Christmas tunes, both traditional and modern. Eric Ericsonhallen is the former Skeppsholm Church so the setting is fantastic and the acoustics to die for. This is one show you don't want to miss.
Where: Kyrkslingan 2
When: December 13 & 14
stockholmcityvoices.se
We wish you a wonderful time celebrating Lucia in Stockholm 2016!
Photo credit: Michael A. Lowry/Flickr