Photography and Stockholm go together like Laurel and Hardy. That our city is built on 14 islands, has 57 bridges, and is surrounded by water means you're going to get some pretty amazing shots no matter where you are.
But for truly memorably image, seeking out the hidden spots that will give you to-die-for views is probably at the top of your list. View Stockholm has got you covered. So if photography is one of your favorite things to do, just take your camera and be prepared for a remarkable photo tour.
View of Riddarholmen från the City Hall
There isn't just one spot at Stockholm's City Hall that will give you that magical picture, there are several. The arches on the waterfront give you fabulous views of Lake Mälaren that stretch across the water to Södermalm. If you go up into the tower of City Hall you'll have views as far as the eye can see in several directions.
From Västerbron you can get a spectacular view of Kungsholmen
This bridge connects Södermalm with Kungsholmen to the far south and because it's so high you've got a unique view of both islands, as well as the water that flows beneath. Västerbron is a good walking bridge so there is no problem stopping at various points to get just the right angle for your photography.
Mäster Mikaels gata – Photo: Anders E. Skånberg
Tucked away on Södermalm this street is more village from the past than trendy hipster urban. Old wooden houses line the cobblestoned street, with the majestic Katarina kyrka (church) at one end and Cornelisparken (dedicated to the Swedish troubadour Cornelis Vreeswijk) at the other. If you love water views with your photography you won't be disappointed.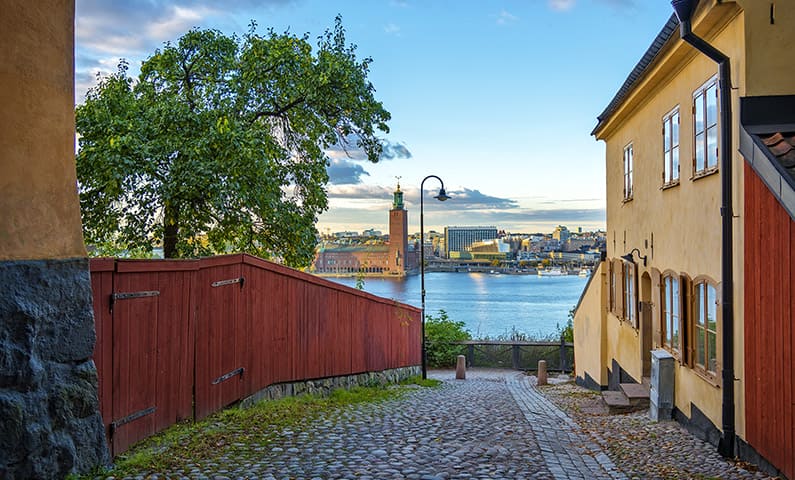 View from Monteliusvägen – Photo: Anders E. Skånberg
This tiny little path, just 500-meters long, winds long the cliff on the edge of Södermalm. What it lacks in size it more than makes up in charm and views. Monteliusvägen is lined with old-style houses and absolutely stunning views of Riddarholmen, City Hall, and Lake Mälaren. Best times for photos: sunrise and sunset.
View from Fåfängan – Photo credit: © Holger Ellgaard/Wikimedia
Another Södermalm gem, Fåfängan offers eye-watering views across the water to Djurgården and Gamla Stan (Old Town). This is where Stockholmers head the second the weather allows, so you might be jostling for position, particularly at the outdoor restaurant.
Stockholms's subway is made for cool underground photography
The Stockholm subway system is also the world's longest art exhibition, with every station offering unique art of some kind. View Stockholm's favorites are, strangely enough, on the less popular blue line. Head to Kungsträdgården and Rådhuset for some great underground photography.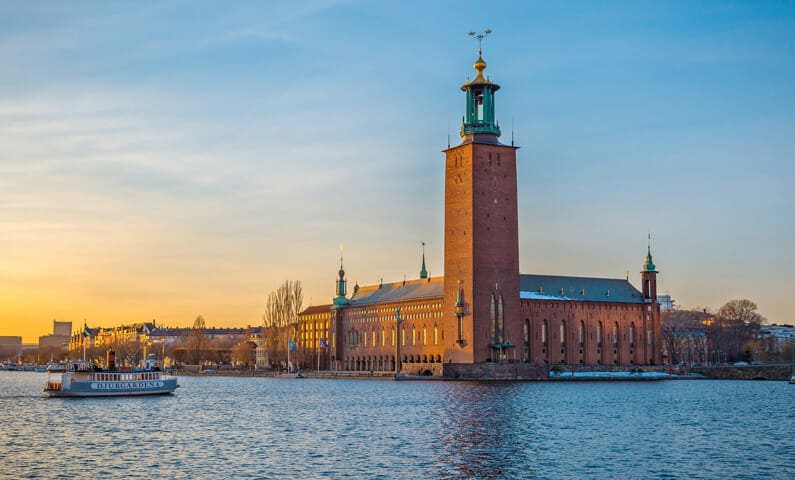 Riddarholmen is the perfect place to get an awesome photo of the iconic City Hall – Photo: Anders E. Skånberg
Tiny Riddarholmen is actually a part of Gamla Stan but most people give it a miss. If you're looking for the ultimate Stockholm shot, though, this is the place to be. The classic Stockholm image, over Riddarfjärden with City Hall in the distance, is shot from here.
Katarinahissen (elevator)
View of Stockholm from Katarinahissen
This incredible eyesore of an elevator will take you up to a walkway that offers panoramic views of Södermalm, Old Town, Djurgården, and the myriad ferries that meander their way from Slussen to points near and far. Gondolen, the famed Stockholm restaurant, is also here and has its own set of incredible views, perfect for those who can't get enough of city photography.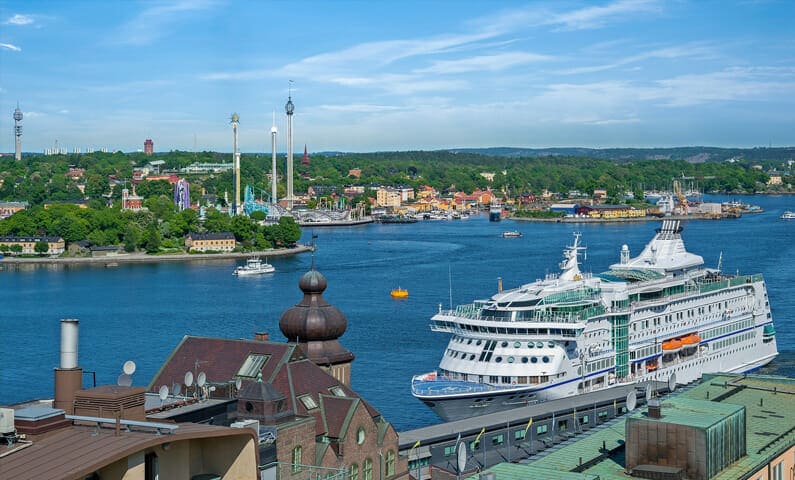 From Mosebacketerrassen you can't get some great shots of Stockholm
The terrace Mosebacketerrassen located next to
Södra Teatern
on the heights of Södermalm. It's a big favorite during the summer for both Stockholmers and tourists, and one of Stockholm's most popular outdoor seatings – perfect for having a beer and some food while admiring the beautiful views. And the view also makes Mosebacketerrassen a great spot for those who want to photograph the city. From here, you can get fantastic images of Old Town, Djurgården, Lake Mälaren, and parts of Södermalm.
The sculpture park at Millesgården on Lidingö – Photo: Anders E. Skånberg
Just across Lidingöbron (bridge) you'll find Millesgården, the former workshop and home of sculptor Carl Milles that is now a museum. Perched on the cliffs of Lidingö the views across to Stockholm are unusual and unexpected. The grounds of Millesgården itself, with an incredible sculpture park, are also worth some shots.
Have fun taking great photos of Stockholm!
Find the best photo spots on the map
| Title | Address | Description |
| --- | --- | --- |
| | Hantverkargatan 1, 111 52 Stockholm, Sverige | Hantverkargatan 1 |
| | Västerbron, Smedsuddsvägen 23, 112 35 Stockholm, Sverige | Smedsuddsvägen 23 |
| | Mäster Mikaels gata, Stockholm, Sverige | |
| | Monteliusvägen, Stockholm, Sverige | |
| | Klockstapelsbacken 3, 116 41 Stockholm, Sverige | Klockstapelsbacken 3 |
| | Riddarholmen, 111 28 Stockholm, Sverige | |
| | Stadsgården 1, 116 45 Stockholm, Sverige | Stadsgården 1 |
| | Mosebacke Torg, 116 46 Stockholm, Sverige | Mosebacke Torg |
| | Millesgården, Herserudsvägen 32, 181 50 Lidingö, Sverige | Herserudsvägen 32 |
Find the best photo spots on the map
| Title | Address | Description |
| --- | --- | --- |
| | Hantverkargatan 1, 111 52 Stockholm, Sverige | Hantverkargatan 1 |
| | Västerbron, Smedsuddsvägen 23, 112 35 Stockholm, Sverige | Smedsuddsvägen 23 |
| | Mäster Mikaels gata, Stockholm, Sverige | |
| | Monteliusvägen, Stockholm, Sverige | |
| | Klockstapelsbacken 3, 116 41 Stockholm, Sverige | Klockstapelsbacken 3 |
| | Riddarholmen, 111 28 Stockholm, Sverige | |
| | Stadsgården 1, 116 45 Stockholm, Sverige | Stadsgården 1 |
| | Mosebacke Torg, 116 46 Stockholm, Sverige | Mosebacke Torg |
| | Millesgården, Herserudsvägen 32, 181 50 Lidingö, Sverige | Herserudsvägen 32 |