Stockholm's subway system is known as the world's longest art gallery, with more than 150 artists transforming the underground stations one by one since the 1950s. Some of Sweden's most heralded artists have been commissioned over the years to create art that have made the 110 km underground space a place of peace and beauty.
For the price of a ticket, you go from station to station on the Stockholm subway, and at each stop, you'll discover a new art experience. And in the summer, SL (Stockholm Public Transport) regularly organizes free guided art walks in the subway (all you need is a valid ticket). In these art walks, SL's art guides tell you more about the unique collection of artwork and sculptures, architecture, and artists behind the works of the 110 km long subway system, where more than 90 of the 100 stations are beautifully decorated.
A great starting point is the Central Station, where you're sure to see plenty of art as you pass through, and here are some of View Stockholm's other favorites. One of them has even been named the world's third coolest subway station. Enjoy!
The rainbows of Stockholm's Stadion subway station
In 1973 Enno Hallek and Åke Pallarp collaborated to create colourful designs that celebrate the 1912 Summer Olympics, which were hosted by Stockholm at the nearby Stadium, which remains one of the most interesting sports arenas in the world.
Kungsträdgården subway station is an abstract garden – Photo credit: © Andrew V Marcus/Shutterstock
In 1977 Ulrik Samuelson transformed Kungsträdgården's subway platforms into an underground garden, with colorful abstract designs which reflect the nearby Kungsträdgården park in the city center. His inspiration was the palaces that are and have been located in Kungsträdgården. Among other things, you can see a male and female torso which previously stood in the palace Makalös, De la Gardie's magnificent palace built in Kungsträdgården 1635-1643 and torn down after a fire in 1825. Samuelson made further additions a decade later, which only enhanced the magic of the space. So no wonder that the world's largest travel guide company Fodor has named it the world's third coolest subway station.
Tekniska Högskolan has a scientific theme
For the subway art at Tekniska Högskolan (KTH the Royal Institute of Technology) artist Lennart Mörk showcases the four classical elements: fire, water, air, and earth, as well as technology advances and the universe, perfectly reflecting the school's name it shares.
Solna Centrum's dramatic escalators – Photo credit: © Roberto La Rosa/Shutterstock
A forest runs the length of the walls, reflecting artists Karl-Olov Björk and Anders Åberg's political statement on the environmental movement back in 1975. The sky is blood red but while the scenes look idyllic at first glance a closer look will give you a different message.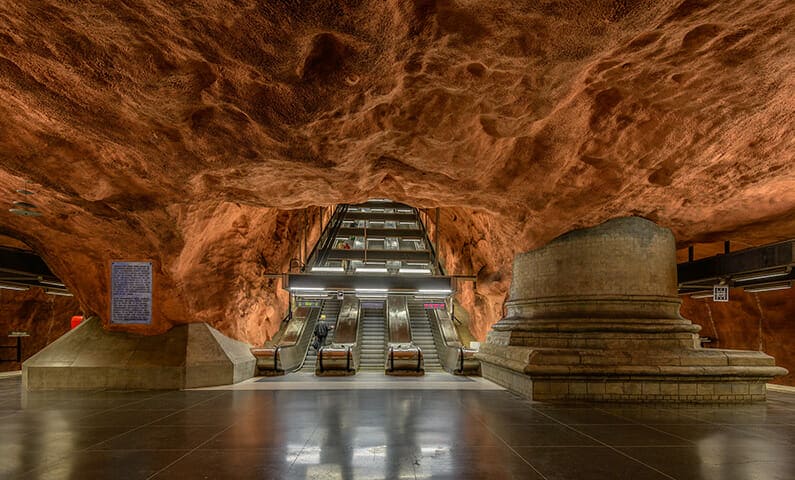 Rådhuset has an archeological vibe – Photo credit: © Arild/Flickr
Located on Kungsholmen, Rådhuset station's art was created by Sigvard Olsson, who took inspiration from the city's past, when Franciscan monks first inhabited the island in the 15th century. A mysterious grotto, complete with archeological finds, feels as if you're on an underground dig, discovering bits of the past.
Thorildsplan celebrates digital art
What would the world's longest art gallery in a city devoted to tech and digital be without at last a nod to the thriving scene? The pixellated station, designed by Huck Hultgren and Lars Arrhenius is a wonderful simple reflection of Stockholm's continued devotion to the future while giving a nod to the past.
Hallonbergen: Through the eyes of children
Artists Elis Eriksson and Gösta Wallmark seem to have channeled their inner child when they dreamed up Hallonbergen. 28 meters below the Centrum is a whimsical space, based entirely on children's artwork, with both paintings and sculptures. It's a breath of fresh air and reminds us of how to see the world through the eyes of a child.
Have fun on your journey through the World's Longest Art Gallery in Stockholm!
Find the aesthetical subway stations on the map
| Title | Address | Description |
| --- | --- | --- |
| | Stockholm Stadion, 114 31 Stockholm, Sverige | |
| | Kungsträdgården, 111 47 Stockholm, Sverige | |
| | Tekniska högskolan, 114 28 Stockholm, Sverige | |
| | Solna centrum, 169 51 Solna, Sverige | |
| | Rådhuset, 112 31 Stockholm, Sverige | |
| | Thorildsplan, Thorildsplan, 112 43 Stockholm, Sverige | |
| | Hallonbergen T-bana, 174 52 Sundbyberg, Sverige | |
Find the aesthetical subway stations on the map
| Title | Address | Description |
| --- | --- | --- |
| | Stockholm Stadion, 114 31 Stockholm, Sverige | |
| | Kungsträdgården, 111 47 Stockholm, Sverige | |
| | Tekniska högskolan, 114 28 Stockholm, Sverige | |
| | Solna centrum, 169 51 Solna, Sverige | |
| | Rådhuset, 112 31 Stockholm, Sverige | |
| | Thorildsplan, Thorildsplan, 112 43 Stockholm, Sverige | |
| | Hallonbergen T-bana, 174 52 Sundbyberg, Sverige | |