While Stockholm in the summer leave you breathless as you take in its beauty don't discount Stockholm in the winter. The crisp air, the crunch of snow beneath your feet, the early darkness illuminated by lights in every window – this is a city that does winter just as well as it does summer. And some might say the charm is even greater.
Here are our 10 best reasons to visit Stockholm in the winter.
Hammarbybacken in Stockholm – Photo credit: © Hans Christiansson/Shutterstock.com
The skiing? Yes, the skiing. Stockholm has a number of spots where you can rent skis and get some time in on the slopes. They may not offer an Olympic level challenge but hey, skiing at night whilst looking out at the lights of the city (and then heading for an after ski) is hard to beat. If cross-country is your thing Lidingö is our top pick for that – although you're spoiled for choice when it comes to cross-country skiing in Stockholm.
Stockholm's parks are beautiful in the winter
From Djurgården to Vasaparken to Rålambshovsparken Stockholm is littered with green spaces – in fact, one-third of the city is green, which means escaping the urban vibe is easier than you think. In winter this also means sledding, cross-country skiing, ice skating, and simply crunching through the snow – all in the heart of the city.
Some may sneer at hipsters but Stockholm loves them – and seeing how they interpret winter with fashion is reason enough to visit our fair city. Big fluffy hats still in style this year? Or have we moved on to ironically wearing Old West racoon tail hats? Come on over and find out.
Stockholm is a city where water is never far away and the nice thing about winter in this city is that the water will, at some point, freeze over. That means long distance ice skating and even walking from island to island on the ice. Yes, it's as cool as it sounds.
If the water doesn't freeze over – or if you're a bit nervous about walking on the open ice – you've got 57 bridges to choose from to get you from one area to another. And if you like a gorgeous wintry view while the wind whips off the water and through your hair. A bit eye-watering in more ways than one.
Visit Stockholm archipelago in the winter – Photo credit: © Anders E. Skånberg
The Stockholm archipelago holds a special charm in the winter. Long gone are the bustling summer crowds, replaced by locals and visitors in the know. The ferries run less often, there are less restaurants to choose from but the stark beauty is unbeatable. If nothing else take a boat out for a few hours, have a drink or two, and head back to the city. You won't regret it.
The food market Östermalmshallen – Photo credit: © Rolf_52/Shutterstock.com
Stockholm's food scene just keeps getting better and better and there's something wonderful about grabbing some great dinner companions and bundling into a cozy, candlelit restaurant on a dark winter's night – and spending the night eating, drinking, and staying a bit too long because you just don't want to face the cold again.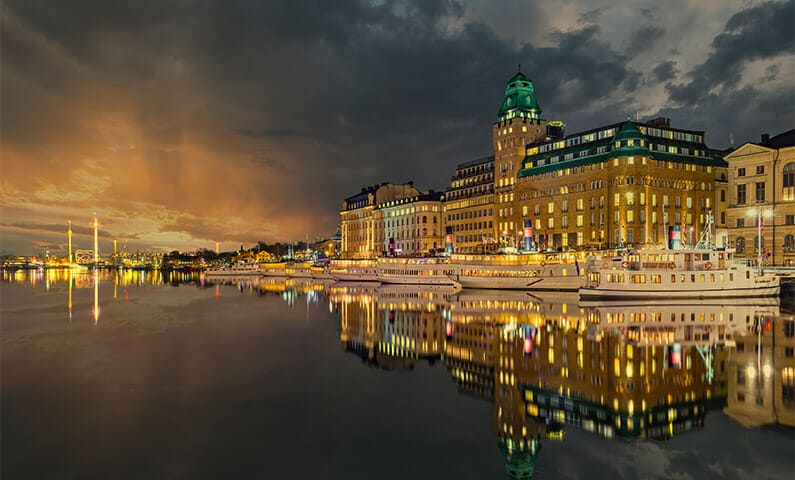 Because we're way up here in Northern Europe the buildings in Stockholm are built to last. Sturdy and solid, the lights of the city illuminate the buildings on the long winter nights, while the winter sun – as brief as it is – allows you to see the craftsmanship in a new way.
The Sunsets (and sunrises)
The sun may only be out for a few hours a day during winter but when it goes down it makes sure you notice. Fiery red, gold, and pale blue, with the buildings silhouetted against the sky and the clouds swiftly moving in the background: get your camera ready and prepare to post to Instagram. And the sunrises? Pink, golden, watery blue – each day brings a new surprise.
Get to know the Stockholmers – Photo credit: © Per-Boge/Shutterstock.com
Stockholmers don't always look friendly but it's just that they're cold! Once you get to talking they warm right up and are full of great tips on where to escape the winter chill. If you land in a pub strike up a conversation and stand your round – you'll be friends before you know it.
View Stockholm hopes you enjoy your winter visit to our beautiful city!