Ice skating is lovely, isn't it? And when you're in Stockholm in the winter season (between late November and March), you have great opportunities to ice skate. The city offers some of the best ice skating conditions in the world with both artificial skating rinks, natural skating rinks, indoor ice rinks, and plowed lake ice rinks.
S
tockholm is a beautiful city, and of course, the surroundings of the town offers many amazing spots for ice skating on natural ices. But you can also skate right in the middle of the city on artificial ices, even if the weather is warm and there's no snow.
It's free to skate (except one place on the list) if you bring your own blades – but if you don't, rental skates are available at a very reasonable price. So put on a pair and get ready for one of the funniest outdoor activities you can have during the wintertime. And don't worry if you never tried ice skating before, anyone can do it with a little bit of practice. It's the perfect way to get in the winter feeling.
To find out when the ice rinks are open to the public you can check the website motionera.stockholm/skridskoakning.
Here is a list of the best ice skating places in central Stockholm:
Ice skating in Kungsträdgården
Since 1884 Stockholmers have been skating and spending time in Kungsträdgården, right in the center of Stockholm. The current ice rink has been in place since 1962. You can rent skates until one hour before closing time, and helmets are included in the price. Music plays as you glide across the ice, creating a wonderful ambiance. Perfect for family and friends, it's also a great way to burn off some calories or stress all on your own. The season runs from early November through the beginning of March – and we here at View Stockholm think the best time is just when the sun is setting, and the lights are about to come on. Kungsträdgården ice rink is open between 9 am and 9 pm on weekdays and 10 am and 9 pm on weekends. Sticks are not allowed.
Kungsträdgården, Norrmalm
Plenty of room for ice skating at Östermalms IP
If you head to Östermalms IP, you'll find a big ice rink with lots of space for everyone. This sports ground both has a track for long-distance ice skating (400 meters) and a big ice rink where you can play games with sticks, such as ice hockey or bandy (only allowed at certain times). You can rent skates, both regular ones and touring skates, as well as helmets and skating aid for small children helping them to learn (and saving parent's back). Bring a lunch pack (grill available on weekends) and get ready for a day of fun! Östermalms IP ice rink is open between 9 am and 11 pm on weekdays, 10 am and 9 pm on Saturdays, and 9 am and 11 pm on Sundays.
Fiskartorpsvägen 2, Östermalm
03
Scandinavian Ice Adventure
If you're in the mood for the winter's coolest skating experience, you should head to Djurgården and Scandinavia's largest adventure park on ice, Scandinavian Ice Adventure. You can find Stockholm's newly opened meeting place on ice in the park outside the Maritime Museum (Sjöhistoriska), and here both kids and grownups can have fun on skates. You'll find adventures and experiences for everyone, whether you have never tried skating before, are an old hockey star, or are an aspiring figure skater.
Scandinavian Ice Adventure consists of several ice areas connected by a cozy ice-covered skateway, where you can try out different skating activities. There's Ice cross, an ice rink with a slope, sharp curves, and other fun challenges for those of you who are skating aces. The children (and of course also the adults) can go on an exciting ride in the Skating Carousel. For those of you who are on a skating date, Love Lane is the given choice with a romantic theme in both music, light, and the ice design. If you have brought your friends or colleagues, you can book the Pond Hockey field and play a friendlier variant of ice hockey without slapshots and tackles. And if you're lucky, there's a skating disco on the agenda – the perfect opportunity to show off your best dance moves on the ice. Should you get tired of skating, you can also try Eisstock, a sport that can be described as a combination of curling and boules.
After the ice skating, you and your company can visit the restaurant After Skate Kitchen and Bar, which offers good food prepared from quality Swedish ingredients. Open every day between 10 am – 10 pm from the end of November to the middle of March. You can buy tickets online or directly on site.
Djurgårdsbrunnsvägen 14, Djurgården
Zinkensdamms IP, often called Zinken, is located in Södermalm at Zinkensdamm and has a big bandy rink that's open for the public. The facility is open between 9 am and 9 pm every day. Bring your family or friends, tie your skates, and enjoy gliding on the ice.
Vasaparken in Vasastan offers an ice rink of 60 x 43 meters and it's open to everyone that wants to skate. Unfortunately there's no skates for rent so you need to bring your own blades. Vasaparken ice rink is open between 8 am and 9 pm on weekdays and 10 am and 9 pm on weekends. Playing with sticks is allowed in the evenings between 7 pm and 9 pm every day.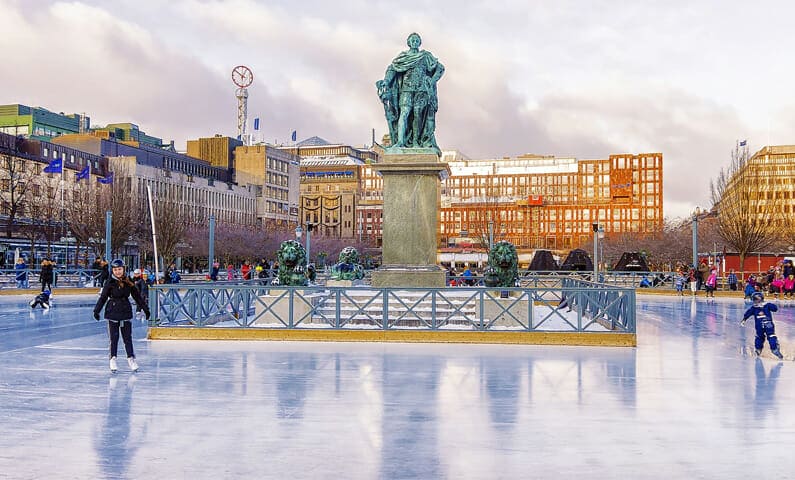 Photo credit: dimbar76 / Shutterstock
Medborgarplatsen in Södermalm has a small ice rink where everyone can enjoy ice skating. Always open.
Medborgarplatsen, Södermalm
We wish you a fun time ice skating in Stockholm!
Find the best ice skating places on the map
Title

Address

Description

Kungsträdgården, Jussi Björlings allé, 111 47 Stockholm, Sverige

FISKARTORPSVÄGEN 2, 114 33 Stockholm, Sverige

Fiskartorpsvägen 2
114 33 Stockholm

Ringvägen 16, 117 26 Stockholm, Sverige

Ringvägen 16
117 26 Stockholm

Vasaparken, Dalagatan 11C, 113 24 Stockholm, Sverige

Dalagatan 11C
113 24 Stockholm

Medborgarplatsen, Stockholm, Sverige

Scandinavian Ice Adventure

Djurgårdsbrunnsvägen 14, 115 27 Stockholm, Sverige

Djurgårdsbrunnsvägen 14
Find the best ice skating places on the map
Title

Address

Description

Kungsträdgården, Jussi Björlings allé, 111 47 Stockholm, Sverige

FISKARTORPSVÄGEN 2, 114 33 Stockholm, Sverige

Fiskartorpsvägen 2
114 33 Stockholm

Ringvägen 16, 117 26 Stockholm, Sverige

Ringvägen 16
117 26 Stockholm

Vasaparken, Dalagatan 11C, 113 24 Stockholm, Sverige

Dalagatan 11C
113 24 Stockholm

Medborgarplatsen, Stockholm, Sverige

Scandinavian Ice Adventure

Djurgårdsbrunnsvägen 14, 115 27 Stockholm, Sverige

Djurgårdsbrunnsvägen 14