Are you looking for good toy stores in Stockholm? Maybe you have playful children who want to go toy shopping in town? Or you're on the hunt for Christmas gifts or birthday presents for the little ones? Then the Swedish capital has many excellent toy shops to offer. Whether you're looking for Lego, Brio trains, dolls, stuffed animals, children's bikes, games, puzzles, or some other nice toy, Stockholm has plenty of lovely places with that magical atmosphere that only a toy store can create.
A fun and colorful world full of toys – it's heaven's place on earth for any child. Besides maybe playgrounds and amusement parks, few things can make their eyes twinkle like toy stores. In today's online-dominated shopping world, visiting an actual physical toy store is a special experience.
With jam-packed shelves that attract play and fun, the little ones can find everything they need to set sail on pirate adventures, build a train track across the entire apartment, furnish the dollhouse, or invite the teddy bear to a cozy tea time with fine wooden pastries.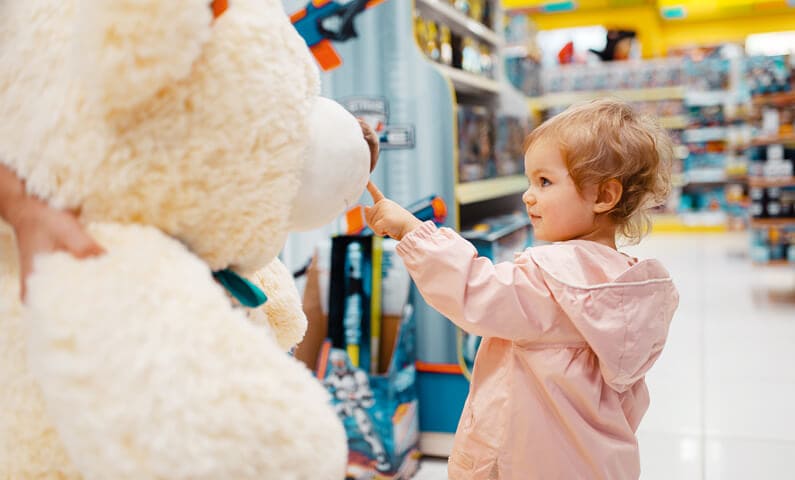 A toy store – heaven's place on earth for any child
Find the right toy store in Stockholm
---
From Södermalm to Östermalm, from the city center to Vasastan – Stockholm is full of colorful gems where you can find toys for all ages and interests. Whether you're looking for the latest must-have item, educational toys that develop children's skills and creativity, or a party gift for a preschool friend, the city's toy stores have what you need.
And the little ones will love the shops. Here, the Lego builder, the Pokémon card collector, the young superhero, the Paw Patrol fan, the thousand-piece puzzler, or the child who worships Babblarna can find everything they could ever want and more. Plenty of fantastic toys will spark the imagination (and make them put down their screens…).
To help you find your way in the toy jungle, we've listed Stockholm's best toy stores. Bring the kids to these fantastic paradises – or go toy hunting by yourself for some well-deserved peace and quiet 🙂
A wonderful world full of toys
World of Toys has five toy stores scattered around Stockholm – in the city, in Kungsholmen, Östermalm, and Arlanda airport. And as the name reveals – it really is a world of toys. Here you can find a wide and well-sorted selection of both trendy, classic, and different toys – for both fun play and learning. On the shelves of this large toy store, Pippi Longstocking and Alfie Atkins are mixed with slime and crafts plus many toys with a focus on learning in mathematics, science, language, and geography.
In the shopping mall Gallerian in the middle of the city is World of Toys' largest store – which is also the largest toy store in Stockholm city. On 800 square meters, there are over 15,000 items for both older and younger children. Plus several fun kids activities. In addition to toy reveling, the kids can say hello to the polar bear Maximilian (2.6 meters high), ride a dinosaur, or let loose in the exciting play areas.
World of Toys offers toys from well-known brands such as Lego, Brio, Fisher-Price, Playmobil, Melissa & Doug, Sylvanian Families, Elodie Details, Barbie, and Djeco. But they also have products that are difficult to find in other stores. In short, you can find everything you may need when looking for a perfect birthday present, Christmas gift, or party present. And the staff is always at your service with package wrapping.
Gallerian, Norrmalm/City
Västermalmsgallerian, Kungsholmen
Fältöversten, Östermalm
Terminal 2, Arlanda
Terminal 5, Arlanda
At the Odengatan/Dalagatan intersection, right by Vasaparken, you'll find a long-established institution in Stockholm's toy world. Here is Brageruds leksaker, which was founded back in 1900. In other words, the shop is well over a hundred years old, which makes it one of the oldest in Scandinavia and a cozy little gem where time has stood still. It has been a family business for a long time, and the current owner's mother had a summer job in the shop already in the 1930s. And although the range of toys has been modernized over the years, the premises are unchanged. They've also crammed a surprising amount of items – from old classics to the latest toys – into the small space.
So if you're looking for an old-fashioned atmosphere, a counterweight to the big chains, and want to go on a nostalgic journey to classic Stockholm toy land, you should head to Brageruds the next time you're shopping for toys in Stockholm. Good prices (Lego, for example) and personal service from the staff who are happy to help you find the perfect gift make it even better. A lovely combination of cultural heritage and toy paradise.
EcoSTHLM is one of Stockholm's best toy stores for those who want something other than plastic, batteries, and Disney. The store offers an extensive and well-sorted range of sustainable toys that focus on organic and environmentally friendly products without harmful chemicals. And they have high standards for the children's products that are allowed to enter the store's threshold. Only natural materials apply – organic cotton, stainless steel, wood, wool, glass, and natural rubber. In other words, you can be sure that your children are playing with nice quality toys that are kind to both the environment and health.
The selection of organic toys includes building blocks, dolls, doll houses, food and kitchen toys, musical instruments, wooden toys, balls, and puzzles. In addition, EcoSTHLM offers a lot of other things that you might need for children of all ages – baby products, accessories for eating and drinking, children's interior decor, crafts, children's clothing and accessories, books, and gifts for a baby shower, a baptism, etc. All are environmentally friendly, of great quality, and in a stylish design. And if you can't get to this toy store in Södermalm, you can also order their products in the webshop with fast and cheap deliveries.
Katarina Bangata 17, Södermalm
Stockholm's toy stores have everything your kids need for their playing adventures
If you're looking for a toy store in Vasastan, Lattjo Toystore on Dalagatan is an excellent choice. It's a traditional, warm, personal toy shop with super friendly and helpful staff. Here you'll find classic quality products – big and small, fun and educational – for everything from babies to school children. In other words, a perfect stop on your Vasastan tour with the children. Why not combine the visit with a cozy excursion to the nearby Vasaparken?
Even though Lattjo Toystore has a relatively small store area, the range is large. In addition, many products are environmentally friendly and made of wood. The selection includes masquerade and dress-up clothes for children who want to be a knight, a princess, Batman, or a wizard. Toys that take the little ones on fantastic play adventures. And plenty of material for craft enthusiasts who want to draw, paint, pearl, or sink their teeth into an exciting science experiment. In short, a land of happiness guaranteed to enchant the youngsters.
If you're looking for a toy store in Södermalm, Lekerian is definitely on the list. In the small, cozy shop, high-quality toys for children of all ages give full speed to the imagination. And the venue on Folkungagatan has strong toy traditions. The well-known toy store Krabat used to be housed here, and it's a former Krabat employee who now runs Lekerian to continue delivering quality products to the residents of Södermalm and everyone else who wants to buy toys, gifts, and good children's and baby products.
The range includes dolls, stuffed animals, cars, dinosaurs, dress-up clothes, puzzles, crafts, board games, books, and experiment boxes. Among the brands, you'll find well-known and popular Vilac, Djeco, Jelly Cat, Maileg, Papo, Moulin Roty, Den Goda Fén, Micki, and Pellianni. The display window and shelves are full of nice fun things, and the lovely checkerboard floor gives one of Stockholm's best toy stores that little extra something.
Folkungagatan 79, Södermalm
Are you looking for a toy store in Östermalm? Or in Södermalm? Or in Kungsholmen? Then Leksaksborgen is all you need. Their three stores in Stockholm (plus online) offer a large and varied range of safe and fun toys for all ages – from baby toys for newborns to fun stuff for children around 10-12 years old. The carefully selected products come from large and small suppliers from both Europe and other parts of the world – both well-known and smaller manufacturers.
The shop at Östermalmstorg, which opened in 1953, is one of Stockholm's oldest, so Leksaksborgen really knows how to deal with toys. Here you can basically find everything you can think of in the way of toys. Botanize among games, crafts, paper, pencils, books, cards, experiments, wizard boxes, Lego, party favors, building toys, puzzles, magnetic toys, outdoor toys, dolls, doll cabinets, play figures, stuffed animals, and much more.
As you see, Leksaksborgen is a safe bet for those on the hunt for toys. If you want to find a good Christmas present, birthday gift, baptism present, or party gift, they're guaranteed to have what you're looking for. And if you're looking for small things for the children's advent calendar and Easter eggs or dress-up clothes, accessories and accessories for Halloween or masquerades, they come to your rescue. For those who feel lost in the wide selection, the friendly staff happily come to help.
Östermalmstorg 2, Östermalm
Hornsgatan 48, Södermalm
Hantverkargatan 37, Kungsholmen
Timeless favorites that flock to Stockholm's toy stores – Photo: Ryan Quintal/Unsplash
Clever, fun, and unique toys that spark the imagination – could that be of interest? Then you should take the kids with you and head to Happies, which has been around since 2004. Today they have two stores, in Hammarby Sjöstad and Orminge centrum, fully loaded with thousands of products. Here you can find everything a child could want – dolls, superheroes, toys, balls, blocks, books, puzzles, cards, board games, children's art, and stuffed animals in all possible shapes and colors. Plus much more – everything from quality brands, non-toxic, and safe.
Happies is really passionate about toys, and you'll notice that when you enter the stores. The products are carefully selected, and the staff understands and knows what children want – and what parents want to give their children. So if you feel unsure, you can get first-class guidance on the perfect gift for birthdays, parties, baptisms, and more. No wonder many people rank Happies as one of Stockholm's best toy stores.
In addition, the stores have a popular adult shelf with nice items such as bath bombs, soap, coffee, chocolate, thermoses, and water bottles. Perfect gifts for dinner parties – or why not treat yourself? There is also an online shop for those who prefer to shop for toys from home.
Hammarby Allé 88, Hammarby Sjöstad
Ormingeplan 3, Orminge
LEGO Store Stockholm – the place to be for LEGO fans of all ages
If we were to list children's absolute favorite toys, LEGO would probably take one of the top spots. Probably the first place. These classic and timeless bricks with endless building and playing possibilities have enchanted both children and adults since 1949. And they are still just as popular.
You can find Stockholm's biggest LEGO heaven in Westfield Mall of Scandinavia – LEGO Store Stockholm. In this store, completely dedicated to LEGO, all LEGO enthusiasts can revel in the latest sets, check out cool models, build their own creations, and much more.
Whether the LEGO fan likes the LEGO theme City, Super Mario, Ninjago, Harry Potter, Friends, Frozen, or something else, there are plenty of exciting building sets. The store also has a large assortment of DUPLO for the smallest LEGO builders. And if you're missing something in your collection, you can also buy classic LEGO bricks in different colors and shapes or mini figures in bulk.
Plus, there's plenty of LEGO for adults. Who hasn't dreamed of building a jazz quartet, the apartment from the TV series Friends, the Colosseum, the Atari 2600, the Millennium Falcon, the Nintendo Entertainment System, or R2-D2 in LEGO? Time for a new hobby?
Westfield Mall of Scandinavia, Stjärntorget 2, Solna
Find your favorite toys at Kalejdoskop in Old Town
Kalejdoskop is a cozy toy store in Old Town that has been around since 2004. Here, the owner has collected her favorite toys for all ages, children's books, and design products. The products come from suppliers in Sweden and the rest of Europe, and to deserve a place in the selection, retro, stylish design, exciting playing possibilities, and unique shape are important components. If you like old-fashioned toys such as puppet theaters, kaleidoscopes, spinners, and music boxes, you'll definitely get your fill, but also newer things from young designers can be seen on the well-stocked shelves.
Children's books – both chapter books and children's books – are also an important element of Kalejdoskop. Part of the store is a second-hand shop for children's books, the only one in Stockholm, but new books are also sold. You'll find many favorites from the 1950s and 60s, for example, the books about Pippi Longstocking and Treasure Island. You can also find 1970s and 80s classics such as the Narnia and Moomin books. And, of course, also many newly written works.
If you want to find materials for the children's creative adventures, Kalejdoskop also has a lot of craft materials such as paints, clay, drawing pads, pencils, stamps, beads, and yarn.
Stora Nygatan 34, Old Town
The wonderful children's shop Sprall, with stores in Östermalm and the city center (plus online), focuses on modern, cool, fun, unique, and well-made children's products of high quality. Things that spark the imagination and create a desire to play and learn. The range is dominated by small designer brands and unique handmade items, often Fair Trade and organic. Here you can find furnishings for the children's room, children's clothes, shoes, costumes, party items, accessories, and bed and bath products for children of all ages. And, naturally, also toys.
In Sprall's toy section, there's everything you might need for both indoor and outdoor play – including baby toys, bicycles, dolls, vehicles, musical instruments, kitchen toys, puzzles, games, cards, wooden toys, play tents, and bath toys. In addition to a wide range of foreign quality brands, Sprall also offers products in its own design, such as bags, toys, mirrors, and home textiles. And not least, books that have both won prizes and are sold in museums worldwide.
Nybrogatan 41, Östermalm
Sergelgången 3, Norrmalm/City
Have fun in Stockholm's best toy stores
---
There you have our list of toy stores in Stockholm. We hope you find what you need – whether it's the latest Lego set for the 7-year-old's birthday, the stuffed animal your grandchild wants for Christmas, or a nice party gift for a classmate. Good luck and have fun!
Find the toy stores on the map
| Title | Address | Description |
| --- | --- | --- |
| | Hamngatan 37, 111 51 Stockholm, Sverige | Gallerian |
| | Fleminggatan 50, 112 33 Stockholm, Sverige | Västermalmsgallerian |
| | Fältöversten, Karlaplan 13, 115 20 Stockholm, Sverige | Fältöversten |
| | Odengatan 91, 113 22 Stockholm, Sverige | Odengatan 91 |
| | Katarina Bangata 17, 116 39 Stockholm, Sverige | Katarina Bangata 17 |
| | Dalagatan 9L, 113 61 Stockholm, Sverige | Dalagatan 9L |
| | Folkungagatan 79, 116 22 Stockholm, Sverige | Folkungagatan 79 |
| | Östermalmstorg 2, 114 42 Stockholm, Sverige | Östermalmstorg 2 |
| | Hornsgatan 48, 118 21 Stockholm, Sverige | Hornsgatan 48 |
| | Hantverkargatan 37, 112 21 Stockholm, Sverige | Hantverkargatan 37 |
| | Stjärntorget 2, 169 79 Solna, Sverige | Westfield Mall of Scandinavia |
| | Stora Nygatan 34, 111 27 Stockholm, Sverige | Stora Nygatan 34 |
| | Nybrogatan 51, 114 40 Stockholm, Sverige | Nybrogatan 41 |
| | Sergelgången, Stockholm, Sverige | Sergelgången 3 |
| Title | Address | Description |
| --- | --- | --- |
| | Hamngatan 37, 111 51 Stockholm, Sverige | Gallerian |
| | Fleminggatan 50, 112 33 Stockholm, Sverige | Västermalmsgallerian |
| | Fältöversten, Karlaplan 13, 115 20 Stockholm, Sverige | Fältöversten |
| | Odengatan 91, 113 22 Stockholm, Sverige | Odengatan 91 |
| | Katarina Bangata 17, 116 39 Stockholm, Sverige | Katarina Bangata 17 |
| | Dalagatan 9L, 113 61 Stockholm, Sverige | Dalagatan 9L |
| | Folkungagatan 79, 116 22 Stockholm, Sverige | Folkungagatan 79 |
| | Östermalmstorg 2, 114 42 Stockholm, Sverige | Östermalmstorg 2 |
| | Hornsgatan 48, 118 21 Stockholm, Sverige | Hornsgatan 48 |
| | Hantverkargatan 37, 112 21 Stockholm, Sverige | Hantverkargatan 37 |
| | Stjärntorget 2, 169 79 Solna, Sverige | Westfield Mall of Scandinavia |
| | Stora Nygatan 34, 111 27 Stockholm, Sverige | Stora Nygatan 34 |
| | Nybrogatan 51, 114 40 Stockholm, Sverige | Nybrogatan 41 |
| | Sergelgången, Stockholm, Sverige | Sergelgången 3 |