On Kungsgatan, in the middle of the city, you'll find Thule Store Stockholm. It's a concept store that wants to make it easy for everyone to get out to nature and get moving.
A
large variety of people visit Thule Store Stockholm to find equipment that makes an active everyday life easier. The customers are everyone from cycling professionals who know exactly what they need to the first-time parents who want to bring their child when they go for a run.
Thule is an old Swedish company. It was founded in 1942 by the outdoor lover Erik Thulin in Småland (Swedish province). Since then, Thule has focused on developing smart and stylish quality products that help you transport your things wherever your hobbies lead you. Over the years, the company has created everything from the first car racks launched in 1962 to rooftop cargo carriers and modern multifunctional strollers, and quality luggage.
Thule wants to inspire everyone to get out and get moving in nature.
"Thule is still very strongly associated with roof racks, at least in Sweden. On the other hand, international tourists usually know our bags and are surprised that we also have roof boxes," says Johan Lindell, store manager at the Thule store on Kungsgatan in the middle of central Stockholm.
The concept store has Thule's complete range, and everything is in stock. Assembling is always included, and the staff is knowledgeable and very helpful.
"We want to inspire everyone to get out and get moving in nature. We want to show that it doesn't have to be complicated at all to go for a run even if you have small children and that it can be easy to take your bike, kayak, or other equipment with you, regardless of whether you travel by car or plane," says Johan.
The range is divided into three categories. In
Sport & Cargo
, you'll find bike racks, rooftop cargo carriers, the famous roof racks, and everything else you may need to bring surfboards, bicycles, and other sports equipment on your trip.
The fast-growing Active with kids category includes multifunctional strollers for running, walking, cycling, and even cross-country skiing.
"Most people who have tried to take their child in a traditional sled in the cross-country ski trail know how heavy it gets. With our stroller, you simply replace the wheels with runners. The child sits in the stroll above the ground, which means that it keeps the heat better and thus reduces friction and makes it much easier to pull," says Johan.
We have different expertise and often spend a lot of time with each customer to find the best solution for their needs
– Johan Lindell, Store Manager –
The third category
Packs & Luggage
includes, among other things, bags, backpacks, ski cases, and bicycle bags – both for transporting items on the bike and for transporting the bike itself. For the alpine skier, there's a ski backpack with a built-in avalanche system.
"For us working in the store, it's fun that the range is so large and varied. We meet many different types of customers; everyone from real professionals and enthusiasts who know exactly what they need to new parents who wish to be guided in all possible ways to take their children out. Also, business people who want bags with a stylish design and good quality when they travel choose Thule."
To provide outstanding and personal service, the staff tests a lot of the range. Everyone who works here is also active in one or more sports and outdoor activities that they, as a result, are extra passionate about. This passion spreads to customers.
"We have different expertise and often spend a lot of time with each customer to find the best solution for their needs," says Johan.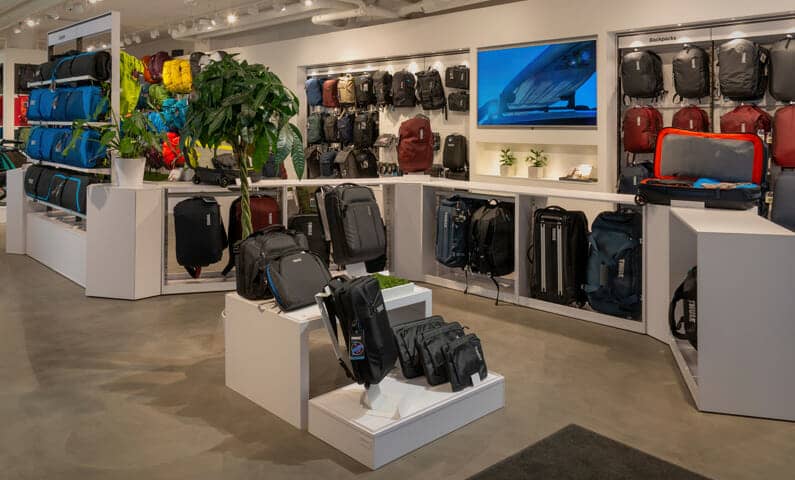 Johan himself is a canoeist, and even before he started working at Thule, he had extensive experience of driving around with Thule racks and a kayak on the roof. But these days, there isn't much paddling. He just had a little daughter, and to the question of which is his own favorite product, the answer is, of course, a multifunctional stroller.
"With the stroller, both my daughter and I can enjoy a run."
Kungsgatan 12-14, Norrmalm/City
Title

Address

Description

Kungsgatan 12, 111 35 Stockholm, Sverige

Kungsgatan 12-14
111 35 Stockholm
Sponsored article in collaboration with Thule Store Stockholm.
Kungsgatan 12-14, Norrmalm/City
Title

Address

Description

Kungsgatan 12, 111 35 Stockholm, Sverige

Kungsgatan 12-14
111 35 Stockholm