'Tis the season for stuffing your face with delicious Christmas foods! If you're in Sweden around the holidays, we highly recommend trying a traditional Swedish 'julbord.'
A
A julbord, translated to 'Christmas table,' is a popular smörgåsbord of Swedish Christmas foods served only around the holidays. It's the perfect opportunity to taste some traditional Swedish delicacies in a buffet-style fashion.
What can you find on a Swedish julbord?
---
A Swedish julbord typically includes a spread of cold dishes, like pickled herring, pâtés, and cold cuts, followed by a range of hot dishes, like meatballs and ham, along with some pieces of bread and cheeses, and finally, a spread of delicious desserts.
Although families often serve their own julbord on Christmas day, restaurants begin offering it around the last week of November up until Christmas. The restaurants are decorated with Christmas lights and Christmas trees, red tableware, fresh greenery, and candlelight – everything you'd want for a cozy holiday gathering. No wonder it's very popular for gatherings with family and friends, as well as holiday office parties. The only problem might be, as with most buffets, that you want to try a bit of everything, so you get very full by the end of the meal.
If you're attending an upcoming julbord, one piece of advice we could give is to be open-minded. The foods that may sound the most unappealing to you may, in fact, be your most favorite dishes of the evening.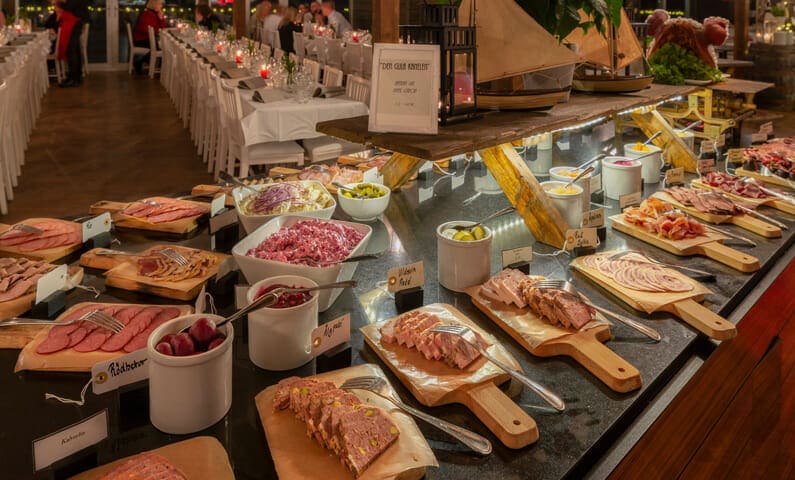 There's no better way to try the traditional Swedish delicacies than a 'julbord'
The top 10 must-try foods at your next Swedish julbord
---
1. Meatballs (köttbullar)
No surprise here! They're often served with sour cream, red onion, and chives.
2. Christmas Ham (julskinka)
The most popular food around the holidays. The Christmas ham is typically made with a breadcrumb and mustard crust or glaze and usually served cold with various mustards.
3. Smoked Salmon (rökt lax) or Marinated Salmon (gravad lax)
One of our favorites served with 'hovmästarsås', a delicious mustard and dill sauce.
4. Spare Ribs (revbensspjäll)
Spare ribs are usually cut of pork. The ribcage of a pig, both meat and bones, is cut in pieces. Then it's prepared in the oven or grilled, often with a marinade.
5. Pickled Herring (sill)
Herring is found at all Swedish Christmas buffets but is usually a hit or miss with most people. There are a lot of different flavors, including vegetarian herring, and one of our favorites is a herb and garlic flavored sill. It's delicious!
The many traditional fish dishe are a must-have at any Swedish julbord
6. Jansson's Temptation (Janssons frestelse)
A popular potato casserole baked with anchovies, onions and cream.
7. Prince Sausage (prinskorv)
These mini sausages are another julbord essential and all-around favorite amongst the Swedes.
8. Red Cabbage (rödkål)
A braised cabbage salad often flavored with vinegar, apples, and syrup.
9. Red Beet Salad (rödbetssallad)
Typically a bright purple shade, red beets are combined with apples and mayonnaise to make this creamy salad.
10. Rice Pudding (risgrynsgröt)
This Swedish traditional Christmas food, made of rice, is also called Christmas Porridge or Santa's Porridge. This delicious dish has a clumpy consistency and is typically served with milk and cinnamon. According to tradition, an almond should be hidden in the rice pudding and whoever finds it should marry in the coming year.
End your Christmas dinner with some delightful sweets
Like most Swedish celebrations, it wouldn't be complete without a shot of Swedish snaps alongside your meal. This traditional flavored spirit is comparable to vodka but is often enjoyed slowly, rather than shooting it back. If this doesn't sound like your cup of tea, Christmas beer (julöl) is very common. A great non-alcoholic alternative is 'julmust', a popular soft drink available only around the holidays.
And don't forget to leave some room for dessert. Most julbords have a wide selection of candy and other sweets, such as butter-scotch (knäck), ice chocolate (ischoklad), marzipan and gingerbread cookies (pepparkakor). A very nice and yummy ending to the julbord.
Enjoy! And God jul (Merry Christmas)!
Images from the delicious Christmas buffet at Rökeriet Fjäderholmarna.