Stockholm is a runner's dream: fresh, crisp air, plenty of outdoor space, and well-maintained routes. This is a city that takes its sport seriously and if you feel the need to maintain your running routine while visiting you will be spoiled for choice.
While there probably are more running routes than cafés for fika and you can easily map out 30 km or more by connecting different areas. Here are our favorites. And if you like to compete with others (or yourself) you should check out our guide to
running races in Stockholm
.
Why not end your run on Lidingö with a swim
Just over the Lidingö bridge sits the self-proclaimed Island of Health – and there's a lot of truth in that moniker. There are well-maintained paths for both cycling and running all across the island, which you can jump on as soon as you arrive (you can even start on the cycling/foot path on the bridge) but the real joy on Lidingö is the woods: they're everywhere and there are beautiful soft dirt paths that went their way from one end of the island to the other. They're fairly well marked but because the network of paths is so extensive you may end up running a lot longer than you planned.
Subway Ropsten (red line) – from here take the Lidingöbanan or a bus onto the island – or hit the bridge and start running.
Run along the canal on Djurgården
Easily reached from central Stockholm Djurgården was once the royal hunting grounds. Today, with its stunning mixture of woods, fields, and gorgeous waterfront, it's a runner's paradise. If you run around the entire island it's about 10 km – although you can extend this by running along roads and paths that pass the many attractions that dot the island. The best part of Djurgården is that you'll be amongst like-minded people: this is where many Stockholmers go to walk, hike, cycle, and run. Swedes like to keep fit and Djurgården is one of the best places in which to do this.
Start at Djurgårdsbron, at Strandvägen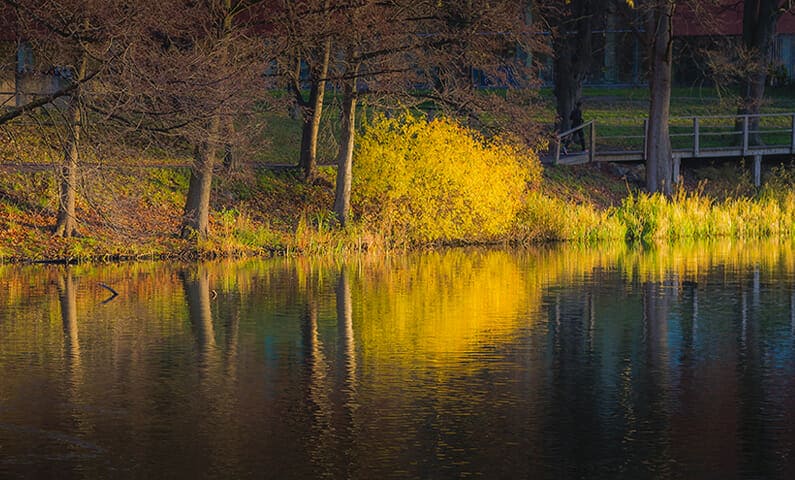 The beautiful Årstaviken on Södermalm
It may be known for its hipster lifestyle but Södermalm is a dream for a runner. The busy streets are fine if you don't mind dodging pedestrians but the real treat is the path that goes around the island, giving you amazing views across the water to various parts of the city as you make your way. You can jump on pretty much anywhere and it does have its challenges, such as running up steps and hills, but it's a great workout as well as a great way to see Stockholm from another point of view.
Subway Slussen – head towards the water and start running
The park Rålambshovsparken on Kungsholmen is perfect for runnning
One of the more chill areas of Stockholm, Kungsholmen is great for a city run. The streets are relatively quiet and you can simply make your way through the inner streets or hit the path that circumnavigates the island. That loop is about 9.5 km and includes trail running, hills, and some of the best views of the city around. And if you get tired? There are plenty of places to stop for refreshment – although you may not get back on the trail once you settle in.
Start at City Hall, with the water to your left
Run in Haga Park – Photo credit: © Peter Isotalo / Wikimedia
One of Stockholm's most beautiful parks, this vast space just north of Stockholm offers routes of varying lengths through some seriously gorgeous scenery. A favorite route is the loop around Brunnsviken Lake, which is about 11 km. During the winter the lake freezes so if you're looking for something more bring your skates and go for a spin. It can be tricky to find your way at various points, though, so bring a map – or keep an eye out for the Crown Princess and her husband, who live locally. They may be able to set you back on the right path.
Train towards Märsta, 515 bus to Haga norra
Note: Any of these routes can easily be reached from central Stockholm – some will add quite a few km to your run but there's nothing wrong with that!
We wish you a great workout at Stockholm's top spots for running!