Stockholm isn't a big theater town like other major cities but that doesn't mean you can't fill your need for live theatre. The theatre scene here offers a mix of adapted and original material; much of it is in Swedish but there are plenty of English-language performances as well. And hey, why not see a play in Swedish? It'll be one more thing you can tick off your bucket list.
Here are View Stockholm's favorite theatres. Break a leg!
Maxim – Photo: Viktor Fredholm
Located in the heart of posh Östermalm Maxim offers a variety of shows, with everything from the annual A Christmas Carol performed by an England-based theatre group to Macbeth to Snow White. The theatre itself exudes old-fashioned elegance, with a great bar for your pre-show and intermission drinks.
Royal Dramatic Theater – Photo: Anders E. Skånberg
Founded in 1788 and known locally as Dramaten, the Royal Dramatic Theater has the mandate to present Swedish and international theatre of note. It's Sweden's national stage for theatre where many of Sweden's top acting talent appears. And it all happens in one of the most beautiful buildings in Stockholm. This is also where Bergman held sway for many years, which Dramaten honors with the semi-annual Ingmar Bergman International Theater Festival.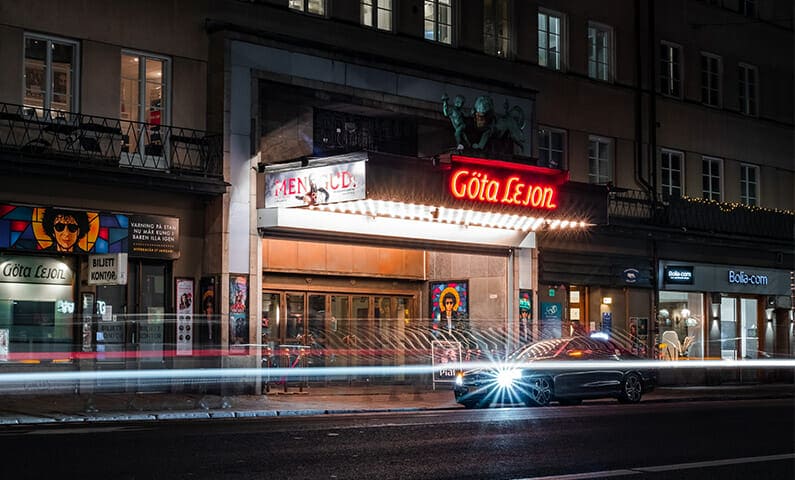 Göta Lejon – Photo: Viktor Fredholm
Göta Lejon leans more towards musical theatre, much of it adapted from the English-speaking world. What this means is that while the dialogue might be in Swedish the songs are often still in English, making it pretty easy to follow along. While the outside of the theatre looks a bit shabby the interior is stunning and the crowds always enthusiastic.
Elverket – Photo: Viktor Fredholm
Founded in 1997 by the Royal Dramatic Theater, Elverket offers more cutting-edge, modern fare and often divides the main stage into two. Young Dramaten, which features younger talent, moved here in 2009, so experimental is often the name of the game. That there is a great restaurant attached makes your visit just that much better.
Strindbergs Intima Teater
Strindbergs Intima Teater – Photo: Viktor Fredholm
Founded in 1907 by famed Swedish playwright August Strindberg and actor August Falck, the repertoire consisted almost exclusively of Strindberg plays during its original three years of operation. After closing in 1910 (due to those pesky artistic differences) the theatre reopened on January 22, 2003 (Strindberg's birthday). Today most performances are by or about Strindberg, often in collaboration with international guests and in a variety of languages. A visit to Strindberg's Intima Teater means an evening of theatre history.
Barnhusgatan 20, Norrmalm/City
Offering a mix of theatre performances, live music, and club nights, Södra Teatern is Stockholm's oldest active theatre. It also boasts three bars, an outdoor terrace, and one of the best locations this city has to offer. The gilded interior is breathtaking and the shows are internationally renowned.
Mosebacke Torg 1, Södermalm
Kulturhuset Stadsteatern – Photo: Viktor Fredholm
Stockholm's Kulturhuset (Culture House) has a variety of cultural offerings on its always packed schedule – and theatre is definitely on the menu. With both Swedish and international guests, there's something for everyone here, including the kids. Check the website and get your tickets early – this is one of the most popular cultural meccas in all of Sweden.
Sergels Torg, Norrmalm/City
International Theater Stockholm
International Theater Stockholm – Photo: © Svart Björn/Flickr
This nomadic theatre group has no permanent home, instead they´re taking over a variety of spaces around the city. Performances are in both English and Swedish and the troupe's following has been exploding in recent years. Their long-running 'Lost in Translation' show is a particular crowd favorite. Check their website for performances and locations.
Different locations around the city
Stockholm English Speaking Theatre
Stockholm English Speaking Theater Photo: © Fabrice Florin/Flickr
Founded in 2010 by a group of internationally trained actors SEST puts the emphasis on ensemble and their productions reflect this. There's a lot of Shakespeare, as well as more modern and sometimes experimental fare – and it's all in English. This is another nomadic group so their website will point you in the right direction.
Different locations around the city
Orionteatern – Photo: Viktor Fredholm
If avant-garde is your thing then the Orion Theater is for you. Orion has been staging innovative and experimental works since 1983 and prides itself on allowing artists to find new ways of working outside the limitations of institutional theatre. This is the theatre you visit to be both challenged and inspired.
Katarina Bangata 77, Södermalm
We wish you a fantastic time at the best theaters in Stockholm!
Find the theaters on the map
| Title | Address | Description |
| --- | --- | --- |
| | Karlaplan 4, 114 60 Stockholm, Sverige | Karlaplan 4 |
| | Nybroplan, 111 47 Stockholm, Sverige | Nybroplan |
| | Götgatan 55, 116 21 Stockholm, Sverige | Götgatan 55 |
| | Linnégatan 69, 112 12 Stockholm, Sverige | Linnégatan 69 |
| Strindbergs Intima Teater | Barnhusgatan 20, 111 23 Stockholm, Sverige | Barnhusgatan 20 |
| | Mosebacke Torg 1 - 3, 116 46 Stockholm, Sverige | Mosebacke Torg 1 |
| | Sergels torg, 111 57 Stockholm, Sverige | Sergels Torg |
| | Katarina Bangata 77, 116 42 Stockholm, Sverige | Katarina Bangata 77 |
Find the theaters on the map
| Title | Address | Description |
| --- | --- | --- |
| | Karlaplan 4, 114 60 Stockholm, Sverige | Karlaplan 4 |
| | Nybroplan, 111 47 Stockholm, Sverige | Nybroplan |
| | Götgatan 55, 116 21 Stockholm, Sverige | Götgatan 55 |
| | Linnégatan 69, 112 12 Stockholm, Sverige | Linnégatan 69 |
| Strindbergs Intima Teater | Barnhusgatan 20, 111 23 Stockholm, Sverige | Barnhusgatan 20 |
| | Mosebacke Torg 1 - 3, 116 46 Stockholm, Sverige | Mosebacke Torg 1 |
| | Sergels torg, 111 57 Stockholm, Sverige | Sergels Torg |
| | Katarina Bangata 77, 116 42 Stockholm, Sverige | Katarina Bangata 77 |