Looking for late-night eats in Stockholm? While there are plenty of hotdogs ('korv') kiosks around the city why not dive into something more substantial, like a steak or a fish pie or some Asian? Or, if you insist on a hotdog, make sure you go to the best korv kiosks in town (hint: we think it's at Medborgarplatsen!)
S
tockholm is a city in the midst of a foodie renaissance and that includes
late night
eats. Let's dig in!
A Stockholm staple for nearly 110 years, Kvarnen is a traditional Stockholm beer hall that happens to serve up some pretty amazing food. And the food? Classic Swedish fare with a modern twist, which means hearty, tasty, and sometimes surprising. That the beer selection is among the best in the city and the setting cozy yet lively makes Kvarnen a place you'll return to again and again. And again.
Tjärhovsgatan 4, Södermalm
Sleek, modern, and boasting not just a brilliantly bohemian atmosphere but also boasting some seriously killer food, Rolfs Kök launched in 2003 and quickly became a Stockholm favorite, both for late-night eats and all day long. Serving up an eclectic menu that includes everything from snails to oysters to pig's trotters, this eatery is for those who like a bit of adventure on their plate – and for those who know that nothing tastes bad if it's properly prepared.
Tegnérgatan 41, Norrmalm/City
Grill is all about meat – Photo © Grill
Meat – do you like it? And if you like it do you like it best when it's hot off a sizzling grill? Well, Grill – as the name suggests – has what you're looking for: meat and plenty of it, all prepared with an astonishing variety of grill techniques. The restaurant, which has been around since 2003, has nine different sections, each with its own character, from Tivoli to the Library.  The menu changes regularly but what doesn't change is the dedication to quality and taste – and one of the best atmospheres in town.
Drottninggatan 89, Vasastan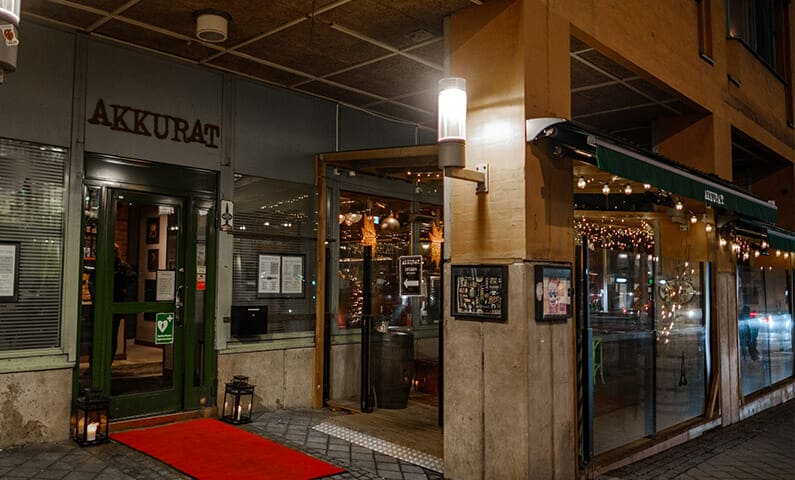 This is one down to earth Scandi pub that serves up more than just your average pub food. Certainly, you'll find a
burger
on the menu but you'll also find beetroot soup, Bourbon ribeye, and duck confit. Akkurat also has one of Stockholm's finest beer and whiskey selections, and there's
live music
late in the evenings.
Supper, located in Sturegallerian in Stockholm's Östermalm neighborhood, is all about family, community, and South American flavors. The bar in the middle of the room brings everyone together over food and drink, while the open kitchen serves up homemade chorizo,
vegetarian
tacos, and salted pork belly. The wine and beer lists perfectly complement the food.
Humlegårdsgatan 17, Östermalm
We hope our guide will help you find a great late night eat in Stockholm!
Find the restaurants on the map
| Title | Address | Description |
| --- | --- | --- |
| | Tjärhovsgatan 4, 116 21 Stockholm, Sverige | Tjärhovsgatan 4 |
| | Tegnérgatan 41, 111 61 Stockholm, Sverige | Tegnérgatan 41 |
| | Drottninggatan 89, 113 60 Stockholm, Sverige | Drottninggatan 89 |
| | Hornsgatan 18, 118 20 Stockholm, Sverige | Hornsgatan 18 |
| | Humlegårdsgatan 17, 114 46 Stockholm, Sverige | Humlegårdsgatan 17 |
Find the restaurants on the map
| Title | Address | Description |
| --- | --- | --- |
| | Tjärhovsgatan 4, 116 21 Stockholm, Sverige | Tjärhovsgatan 4 |
| | Tegnérgatan 41, 111 61 Stockholm, Sverige | Tegnérgatan 41 |
| | Drottninggatan 89, 113 60 Stockholm, Sverige | Drottninggatan 89 |
| | Hornsgatan 18, 118 20 Stockholm, Sverige | Hornsgatan 18 |
| | Humlegårdsgatan 17, 114 46 Stockholm, Sverige | Humlegårdsgatan 17 |