Stockholm's Royal Palace is not only one of the biggest in Europe, it's also the official residence of His Majesty The King.
Open to visitors year-round, the Royal Palace is where most official royal engagements are held, and where Sweden's Royal couple King Carl XVI Gustaf and Queen Silvia carries out most of their daily duties. It's also home to the Royal Court, which is made up of numerous departments.
Built in 1754 by architect Nicodemus Tessin, the palace is styled on Roman palaces and has more than 600 rooms spread across its seven floors, including offices, living quarters for members of the Royal Family, and a variety of 'home areas', such as living rooms and kitchens.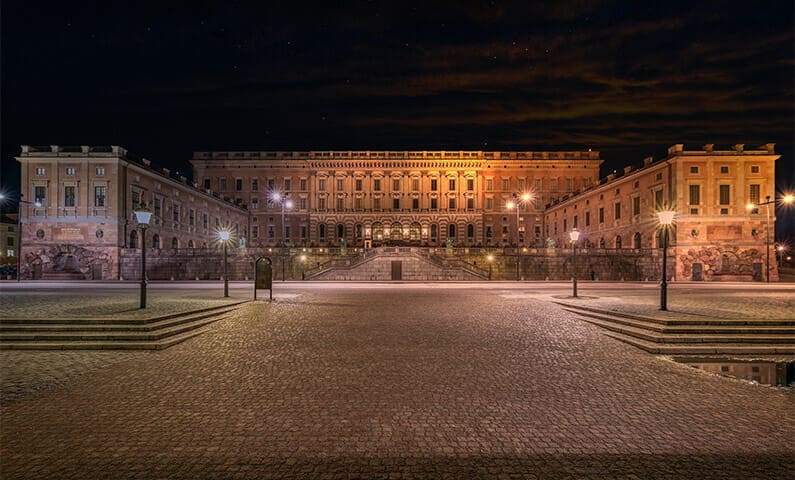 The magnificent Royal Palace in Stockholm
There are three museums housed in the palace, each offering a unique portal into Sweden's long and varied history.
The Tre Kronor Museum gives the history of the Tre Kronor Palace, which was destroyed by fire in 1697. There is even a city defence wall from the 1200s.
Gustav III's Museum of Antiquities is one of Europe's oldest museums and first opened in 1794. King Gustav III was a keen collector of art and antiquities, primarily sculptures, and you can enjoy his finds from around Europe at the museum.
The Treasury houses the Swedish royal family's crown jewels and other regalia in dark cellar vaults. Among the many treasures for you to gaze upon: Gustav Vasa's sword of state, Erik XIV's crown and orb, and the silver baptismal font from 1696, which is still in use today.
View of the palace from Skeppsholmen
One of the most unique attractions at the Royal Palace is the Royal Apartments, which retain the décor from the 18th century. Here is where royal events and receptions are held, and the group of rooms include the Bernadotte rooms, Guest, and State Apartments, as well as the Hall of State and the Rooms of the Royal Orders. You'll also see Gustav III's bedroom and Oskar II's writing room, along with the Banquet Hall, where official galas are still held.
Whether you're a history buff, a lover of all things royalty – or even a republican, you'll gaze in wide wonder at the majesty of it all.