Do you want to rent a kayak in Stockholm? A brilliant idea. To calmly glide on the water is a fantastic way to experience Sweden's capital. Kayak in the city center and look at all the sights. Or enjoy an amazing paddle trip in scenic surroundings. You have plenty of possibilities, and if you want to try paddling, there are many good places offering kayak rental in Stockholm (don't forget the life jacket!).
I
f you like to kayak, few cities beat Stockholm. Here you'll find both the sea (Saltsjön) and the large Lake Mälaren, but also a vast amount of smaller lakes, bays, and streams to explore.
In other words, you have enormous opportunities to experience "Venice of the North" and the city's surroundings in the very best way – from the water. Kayaking is the simplest form of boating, and to get out on the water and feel the freedom and tranquility as you glide forward is a true pleasure.
Kayaking is a great way to explore Stockholm – Photo: Mattias Lindblom/Unsplash
Rent a kayak in Stockholm – a fantastic way to experience the city
---
With a kayak, you can easily go where you want in Stockholm, and the city is full of fantastic kayaking opportunities. City kayaking or archipelago kayaking – you choose. Paddle around Kungsholmen or Årstaviken. Or steer the kayak towards the City Hall, Old Town, Tantolunden, Långholmen, Drottningholm, and other wonderful excursion destinations – including the stunning Stockholm archipelago with 30,000 islands and islets. Stockholm is a true kayaking paradise!
Here's our guide to the city's kayak rentals (many of them also offer SUP rental. And no matter what kind of adventure you're up for – a quick tour or day trip – it's easy to rent a kayak in Stockholm. Where there's water, there's often a kayak rental nearby. Have a nice paddle tour and remember the safety. Always wear a life jacket, paddle close to land, never paddle alone, and check the weather before starting.
Lek Mer is one of Stockholm's best, largest, and friendliest kayak and SUP rentals. With their concept – reasonable prices, great equipment, and excellent courses – they've had thousands of satisfied paddlers so far. Today you can find them in two places in Stockholm – Pampas and Eden (read more below) – and more are on the way. Behind the concept is Melker of Sweden.
At Lek Mer, you can rent a single kayak, double kayak, and family kayak with room for two adults and a child. Life jacket, paddle, and spray skirt are included. If you're up for a longer excursion, you can also rent a dry suit, tent, sleeping bag, and groundsheet.
The friendly and knowledgeable staff is always at your service, and for those of you who want to learn more, there are try-out courses, introductory courses, advanced courses, and rolling courses. In addition, they offer corporate paddling – a perfect activity for your next event at work.
Read more about Lek Mer's two facilites in Stockholm
Pampas
Pampas is Lek Mer's main facility. Here you can rent both kayaks and SUP, and this is where most of their courses and tours are based. The location between Solna and Stockholm, in the bay where the Karlberg Canal flows into Lake Ulvsundasjön, is perfect for getting out on the waters of Lake Mälaren. Take a quick round and check out the nearby Karlberg Castle or go on a longer trip. And don't miss to visit Melker of Sweden's brand store where you can buy your own kayak.
Karlbergs strand 6A, Solna
Eden
Eden is a cozy green oasis by the water, located a stone's throw from Rålambshovsparken in Kungsholmen, where the focus is on food, culture, and recreation. It's also one of Stockholm's best places to watch the sunrise (or sunset) and perfect for renting a kayak (or SUP). Have a wonderful day on the water and then end the kayak adventure with good food and drink at the lovely restaurant located in a beautiful old house.
Smedsuddsvägen 23, Kungsholmen
KAYAKOMAT offers unmanned SUP and kayak rentals throughout Stockholm and the rest of Sweden. You book your kayak online, pay, unlock it with a code, and start paddling. As easy as it gets. And perfect if you're introverted as a typical Swede and like to avoid small talk. A paddle, cockpit cover, and life jacket are included and can be found in the kayak's cockpit. Since KAYAKOMAT is open 24 hours a day, you don't have to plan and can enjoy long summer evenings. As soon as you see a beautiful sunset or your friend calls, just rent a kayak and start paddling.
KAYAKOMAT offers flexible kayak rentals in most places – both in the city center, in the Stockholm archipelago, and by beautiful beaches. Hagaparken, Stora Essingen, Stocksund, Sköndal, Nacka, Bromma, Värmdö, Nynäshamn, Vaxholm, and Ornö are some examples. The kayaks you rent are specially developed to be stable, safe, and easy to use. Therefore they're suitable for both beginners and more experienced kayak users. Behind the concept is Point 65 Sweden, which is the world's leading paddle sports rental company.
See rental spots on the website
Do you want to rent a kayak in Södermalm? Then the popular Långholmen Kayak is a great choice. They have been around since 2012, making them something of a veteran among kayak rentals in Stockholm. Today they're one of Sweden's most visited kayak rentals, and you'll find them at Pålsundskanalen on the ancient prison island Långholmen. Their vision is simple but ingenious: to make the water in Stockholm accessible to as many people as possible. It should be easy to get out and experience the water, nature, and beautiful views.
Långholmen Kayak offers a large selection of kayaks (one-person kayak and two-person kayak), SUP (Stand Up Paddle Board), and accessories that suit all levels of paddlers for rental at reasonable prices. The friendly staff ensures that you and your party, regardless of experience level, are well prepared for the trip on the water.
They also have courses for both beginners and more experienced paddlers. In addition, you can join guided paddle tours (in both English and Swedish) in tandem kayaks, where you can both improve your technique and learn about the surroundings. These tours are based on the rental in Tantolunden, Tanto SUP & Kayak. And if you want to invest in your own equipment after renting, you can also buy a kayak at Långholmen Kajak.
Alstaviksvägen 3, Södermalm
Söderkajak is another popular alternative for renting a kayak in Stockholm. They offer kayak rental (and SUP) in a top location – lovely Vinterviken in southern Stockholm. A perfect starting point for kayaking, whether you're in the mood for the city center or nature. Nearby there are plenty of islands and canals to paddle through, and the routes are filled with scenic picnic areas and bathing places where you can take a nice break. Drottningholm, Långholmen, The City Hall, Karlbergskanalen, Hornsbergstrand, Tantolunden, Stora och Lilla Essingen, and Nockebybadet are examples of places you can easily reach from Vinterviken.
At Söderkajak, you can rent several different types of sea kayaks. There are single kayaks if you want to paddle yourself, tandem kayaks for paddling with a friend, or triple kayaks if you're a trio. There are also family kayaks if you wish to share the water experience with your children – extra stable, plenty of luggage space, and bathing friendly. Söderkajak also offers corporate paddling, a perfect activity for team building, and group paddling for bachelor parties, bachelorette parties, birthdays, etc. In addition to kayak rental, there are many other things to do in Vinterviken – restaurant, garden café, picnic areas, padel courts, tennis courts, and swimming area.
Vinterviksvägen 52, Aspudden
05
Brunnsvikens kanotklubb
If you want to glide in Stockholm's calmest paddle waters, you should rent a kayak from Brunnsvikens kanotklubb, which is open daily in the summer season. During a paddle tour around beautiful Brunnsviken, you can enjoy many nice views, including Bellevue Park, Haga Park, Bergius Botanic Garden, and Tivoli Park.
At Brunnsvikens kanotklubb, you can rent single kayaks, tandem kayaks, and Canadians (canoes with three seats). The price includes a life jacket, paddle, and cockpit cover. If there's time, the staff can give you a shorter instruction, and there are also try-out courses. You need to be at least four people or rent a kayak for more than a day to book in advance. Otherwise, it's a drop-in policy for available kayaks.
Frescati Hagväg 5, Norra Djurgården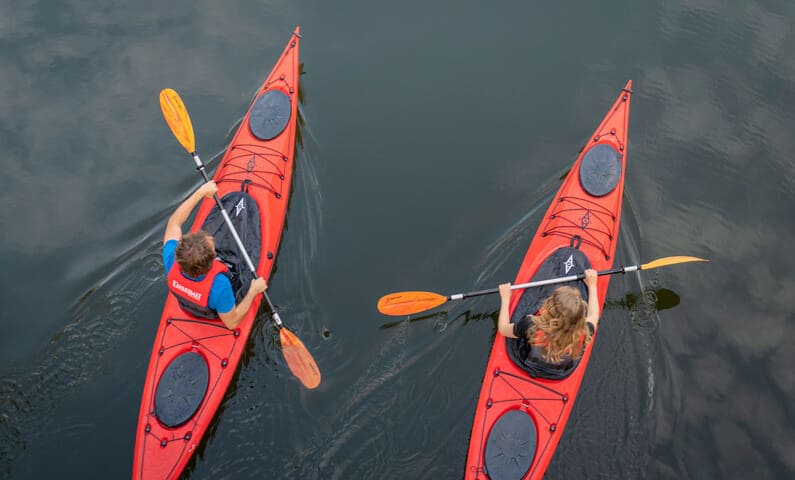 Kayaking is a fun activity for everyone
Sjöstaden Kajak offers wonderful kayaking experiences for those who want to rent a kayak in Stockholm. Their kayak center is located in Hammarbybacken. Besides kayak, Sit-on-Top, and SUP rental, they also offer tours and courses in central Stockholm, Lake Mälaren, and the Stockholm archipelago. In addition, Sjöstaden Kajak has a full-service shop for archipelago paddling. You can also rent a mountain bike if you are eager to try MTB cycling in the nearby area, Nackareservatet
Hammarby Fabriksväg 111, Hammarby Sjöstad
Do you want to rent a kayak in Kungsholmen? Then Kajakkompaniet is an excellent choice. You'll find their rental at Kristineberg on western Kungsholmen – a perfect starting point for various paddle trips in Lake Mälaren. Here you can rent single-person kayaks and tandem kayaks (where you can also fit a child) with good storage capacity.
Rent any period you wish, from a few hours to several days, if you want to go on a real kayak adventure. The kayaks are stable, of the highest quality, and fit all paddlers regardless of skill level. Life jacket, paddle, and cockpit cover are included. You can also rent SUP here.
To make your experience as good as possible, the experienced staff is happy to help with advice and tips on tours and techniques. Kajakkompaniet also offers guided kayak tours. To get started, join the beginner-friendly try-out course where you paddle to the canal Karlbergskanalen and back. Or for the more experienced – around Kungsholmen or a day trip to Drottningholm.
Kungsholms strandstig 502, Kungsholmen
Check out the magnificent City Hall on your kayak tour
If you want to rent a kayak in the Stockholm archipelago, Dalarö Kajak is perfect. The beautiful Stockholm archipelago is an unbeatable environment for kayaking – as made for wonderful kayaking adventures. Around Dalarö, in the southern part of the archipelago, there are nice and calm paddle waters where you can experience nature and bird life up close.
After just 20 minutes of paddling, you reach the first uninhabited island where you can disembark to swim or spend the night if you want. Then just paddle around and explore the archipelago – the number of exciting islands is unlimited! If you want to go on a multi-day kayak tour, you can quickly reach the scenic outer archipelago.
At Dalarö Kajak, you can rent a kayak for any period of time – from a few hours to several days. The price includes basic instructions, paddle, life jacket, cockpit cover, and water-resistant map. If you want to go on a longer trip, you can also rent camping equipment – tents, sleeping bags, groundsheet, and Trangia portable stoves. In addition, you can buy a kayak, go on guided tours, take courses, and take your colleagues on corporate paddling.
Askfatshamnen, Askfatsvägen, Dalarö
Rent a kayak in Stockholm and experience the world's most beautiful city from the water
---
There you have our guide to kayak rental in Stockholm for those who want to do an enjoyable outdoor activity with your family, friends, or work colleagues. Experiencing the Swedish capital from the water is hard to beat – whether you're in the mood for paddling in the city center or a scenic archipelago paddling among islands and rocks. Find a place to rent a kayak in Stockholm that suits you, and have a great trip!
Find the kayak rentals on the map
| Title | Address | Description |
| --- | --- | --- |
| | Karlbergs strand, 171 73 Solna, Sverige | Karlbergs strand 6A |
| | Smedsuddsvägen 23, 112 35 Stockholm, Sverige | Smedsuddsvägen 23 |
| | Ekelundsvägen 26, 171 73 Solna, Sverige | Ekelundsvägen 26 |
| | 169 70 Stockholm, Sverige | Stallmästaregårdens Båtsällskap |
| | Alstaviksvägen, 117 33 Stockholm, Sverige | Alstaviksvägen 3 |
| | Vinterviksvägen 52, 117 65 Stockholm, Sverige | Vinterviksvägen 52 |
| | Frescati Hagväg 5, 114 19 Stockholm, Sverige | Frescati Hagväg 5 |
| | Hammarby Fabriksväg 111, 120 66 Stockholm, Sverige | Hammarby Fabriksväg 111 |
| | Kungsholms strandstig 502, 112 52 Stockholm, Sverige | Kungsholms strandstig 502 |
| Title | Address | Description |
| --- | --- | --- |
| | Karlbergs strand, 171 73 Solna, Sverige | Karlbergs strand 6A |
| | Smedsuddsvägen 23, 112 35 Stockholm, Sverige | Smedsuddsvägen 23 |
| | Ekelundsvägen 26, 171 73 Solna, Sverige | Ekelundsvägen 26 |
| | 169 70 Stockholm, Sverige | Stallmästaregårdens Båtsällskap |
| | Alstaviksvägen, 117 33 Stockholm, Sverige | Alstaviksvägen 3 |
| | Vinterviksvägen 52, 117 65 Stockholm, Sverige | Vinterviksvägen 52 |
| | Frescati Hagväg 5, 114 19 Stockholm, Sverige | Frescati Hagväg 5 |
| | Hammarby Fabriksväg 111, 120 66 Stockholm, Sverige | Hammarby Fabriksväg 111 |
| | Kungsholms strandstig 502, 112 52 Stockholm, Sverige | Kungsholms strandstig 502 |