Are you in the mood for a fresh and delicious pizza in Solna? Then you have plenty of good pizzerias to choose from in this nice area close to Stockholm. Pizza has long been one of Sweden's most popular fast foods, and whether you are looking for a classic Quattro Stagioni or a Neapolitan stone-oven baked pizza with tasty toppings, you're guaranteed to find a pizza restaurant in Solna that can deliver your favorite.
F
ew countries have influenced Swedish food as much as Italy. Pasta, risotto, and not least pizza, which is nowadays a natural part of Swedish food culture. A crispy base, smooth tomato sauce, tasty cheese, and your favorite toppings – what could be better? No wonder a fresh pizza is at the top of many people's wish list when it's time for lunch or dinner.
Don't miss our list of Stockholm's best pizza.
Find the right pizza restaurant in Solna
---
If you're looking for a pizzeria in Solna, you won't have to look far for a nice restaurant serving the Italian favorite. Whether you want to have lunch with a colleague on a Tuesday, a cozy dinner with the family in front of the TV on a Saturday night, or a great meal on International Pizza Day (a.k.a. New Year's Day), there's a place for everyone.
Indulge in fine pizza with exciting flavor combinations, try a pizza bianco, or go for timeless classics like Capricciosa or kebab pizza (said to be Sweden's most popular pizza). Eat on-site or choose takeaway. Most restaurants also offer online ordering and home delivery via Foodora, Uber Eats, and Wolt.
To help you find your way around the restaurants, we have created a guide to Solna's best pizzerias (which are also well worth a trip from Stockholm). Enjoy your meal!
Spiza Pizza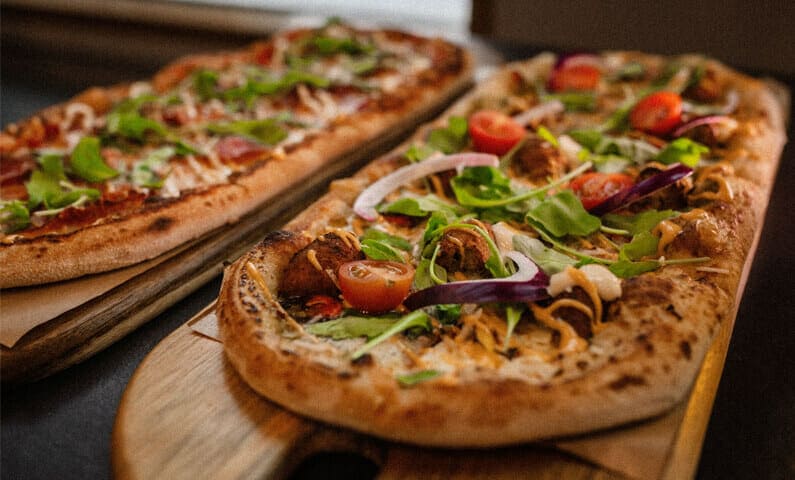 Visit Spisa Pizza if you're in the mood for some of Solna's best pizza
Who decided that a pizza must be round? When Spisa Pizza opened its doors in the newly built area in Ulriksdal in 2020, they showed us that you go a different way and serve this food classic in a new way. With their new pizza concept, where the pizza is rectangular instead of round, they have become the favorite pizza place of many Solna residents. And they've also expanded, nowadays there are also restaurants in the shopping mall Sollentuna Centrum and Hammarby Sjöstad. Eat in the stylish and modern premises or order takeaway.
At Spisa Pizza, you decide how your pizza should look and taste. The first step is to choose your favorites – sauce, cheese, vegetables, and proteins – from a wide range of fresh ingredients (many organic). Then you can watch the restaurant's skilled staff prepare your creation. And it's quick – in just a few minutes, your freshly baked fine pizza is ready and cut into eight slices. Just eat and enjoy. And if pizza isn't your thing, there are also tasty salads.
The price is always the same no matter what you choose, and there are also plenty of ready-made combinations if you need help deciding what you want. Whether you love meat, crave fish, or are a vegan, you'll find something for you. The base is always a first-class Neapolitan pizza dough, made according to the rules of the art and cold fermented for 48 hours. The fact that Spisa Pizza also invests a lot in sustainability, the environment, and quality makes it even better. Aim for Ulriksdal next time you want to have pizza!
La Stella Rossa
La Stella Rossa is a pizza restaurant that many ranks as Solna's best pizza. The restaurant has a diner style, and here you can have both lunch and dinner – and of course, also order takeaway or home delivery. The friendly staff is service-minded and takes the time to chat with guests.
The menu offers a wide range of pizzas with all the usual classics like Calzone, Vesuvio, and Hawaii, plus American pan pizzas. All are made from fresh ingredients (and don't miss the fresh pizza salad). If you want something else to eat, La Stella Rossa also offers several pasta dishes, salads, and the popular Cevapcici (a traditional meat dish from the Balkan States).
Pixel Ristorante
There are no shortcuts to the perfect pizza. That's the motto at Pixel Ristorante. Here, they create luxury pizza with love and first-class ingredients à la Naples; super tasty, well-baked, and flavorful creations baked in a stone oven. You can have lunch or dinner in the cozy space or take your favorite home. In addition to pizza, they serve appetizers, main courses, and desserts, and if you're in the mood for a drink, you can have a glass of wine or a beer.
One of the secrets behind the pizza magic is the dough. The flour is from the brand Caputo, said to be the best pizza flour in the world, and is imported from Naples. The dough is then cold fermented for 72 hours to produce a crispy and flavorful pizza dough. The menu offers various delicious pizzas – from the classics to new and exciting flavor combinations. They also have pizza bianche (without tomato sauce) and vegan pizzas (all pizzas are also available gluten-free). And if you have yet to try pizza with saffron in the dough, you have a golden opportunity at Pixel Ristorante.
La Pizza Solna
La Pizza Solna is the oldest restaurant in Solna, and here you can indulge in good and affordable pizzas. The menu offers a huge variety of pizzas – all the usual classics, beef and pork fillet pizzas, Mexican pizzas, vegetarian pizzas, minced meat pizzas, kebab pizzas, parma and mozzarella pizzas, and pan pizzas.
In other words, you are guaranteed to find something you like at this pizza place – and you'll definitely be satisfied and happy. And if anyone in the company isn't in the mood for pizza, La Pizza Solna also serves kebab, falafel, salads, salad rolls, and pasta. Eat on-site or order takeaway.
Photo: Klara Kulikova/Unsplash
Piazza Råsunda
Piazza Råsunda is a restaurant and pizzeria in Solna that many locals have on their top list. Here they serve great Neapolitan pizza made from fresh ingredients in a wood-fired oven, and the menu offers many delicious and exciting flavor combinations. You can also enjoy good starters, pasta, salads, and so-called Spånga sandwiches (a tip for Solna residents or others who cheer on the team AIK is to try the AIK sandwich with ham, garlic, and chili pepper).
Piazza Råsunda's premises have a cozy and homely neighborhood restaurant feeling with a relaxed atmosphere. Perfect for a nice dinner with friends or family, and in the summer, there's also a nice outdoor terrace. The service-minded staff will take good care of you and ensure you enjoy your visit. Unsurprisingly, this restaurant has many regulars – here you get a solid Italian dining experience!
Il Palazzo
If you are craving pizza and are in Frösunda, Il Palazzo is a good choice. Here you can enjoy wood-fired pizzas made from good ingredients and served by friendly staff. The menu includes a good selection of fresh pizzas with crispy dough and tasty fillings.
At Il Palazzo, you can have lunch, dinner, or order food for takeaway or home delivery. Besides pizza, they serve à la carte, kebab, salads, and pasta dishes (plus starters and desserts). And if you want a drink, the drinks menu offers wine, beer, and soft drinks.
Gustav III:s Boulevard 41
Enjoy delicious pizza in Solna
---
There you have our guide to Solna's best pizzas. We hope you'll find a pizzeria that suits your taste, whether you're too tired to cook dinner on a Wednesday night, want a pizza party with your friends on a Friday, or have a cozy Sunday lunch with the family.
Find Solna's pizza restaurants on the map