He was born into an artistic family where both the father and mother were educated at Konstfack, Sweden's largest university college of arts, crafts and design. Stockholm photographer Ola Ericson is the only one of  five children who has carried on the artistry. His pictures of Stockholm are today spread across the globe.
Ola Ericson lives next to the classic Stockholm square Mosebacke. It is a logical position for a man who documents the city in images, all year round.
Among his favorite images is anything thing that can be described as the city near the waterfront: Riddarholmen, Skeppsholmen, and Old Town.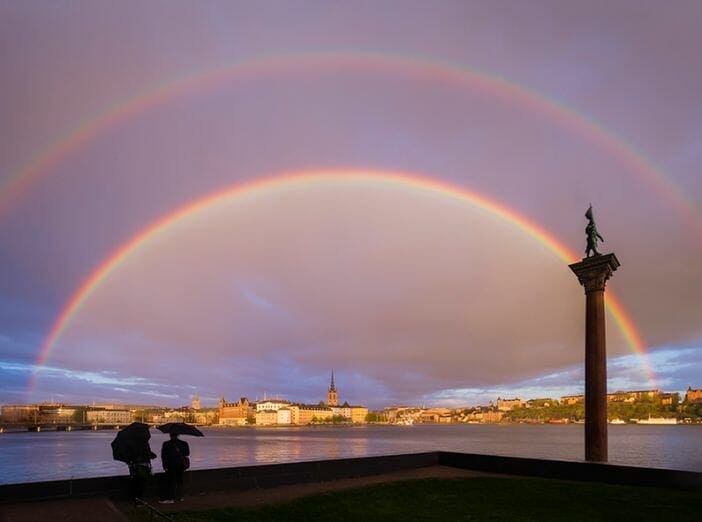 "It is still the most typical of Stockholm. These are the places that make the city a unique capital in the world."
There are many capitals with rivers that cut through them, splitting the city into two parts. Few capitals have water around them, in circles, that continue both inward towards Lake Mälaren and outward towards the world's largest archipelago. And then there is Old Town, which is the core of everything, according to Ola Ericson.
Stockholm is situated on fourteen different islands connected by 57 bridges, and that makes the city unique.
Ola was born and raised in Vaxholm in the Stockholm archipelago, just a short boat ride in to town, which means he has always been close to the city and as a result he knows it inside out.
It is natural that a photographer who grew up in the archipelago appreciates that nature is never far away no matter where you are in Stockholm. With nature so present, the seasonal changes and the climate are affected, and people change significantly from winter to summer. In order to show that, he published a photo book in 2014 with the expressive name Picture Stockholm.
"I would not want to be without the dark season when people are more withdrawn, and the tempo is different, but that is because it is in the nature of the Stockholmers – we have grown up with the seasonal changes."
"I like it because it feels like the city constantly is going somewhere. It is exciting to be a photographer when the conditions are constantly changing, and with them also the city and the architecture. I never feel that I am done with Stockholm and don't need to do more. I know the city is changing, and that gives me new pictures."
Over time he has built up quite a sizeable image bank. It includes the commercially viable and very popular postcard photographs. Old Town, the City Hall, the Royal Palace, and the Opera. In Ola Ericson's image bank there are 3,500 pictures that he carefully has made ready for printing. The total number of images is of course a hundred times more if he counts the ones that have been eliminated or thrown away. He began twelve years ago, in 2003, when the image bank was created.
"When I began to photograph seriously, I saw much more of the city than before. One discovers with the camera. It is exciting. I see opportunities for pictures wherever I go."
"I started pretty early with a different kind of photography, pure street photography, the life on the streets of Stockholm. This is of course not as viable as beautiful postcard photos, but it is something I have to do because it is so fun."
Ola Ericson says that social media has given photography in general, and street photography in particular, a great platform where you can share your own photos, and also watch others. A fantastic opportunity for a photographer since you can express other things than what fits in stream of commercial and adjusted images.
However, he is fond of both forms of photography, but he can only make a living from one of them – Stockholm's magnificent buildings and beauty are eternally attractive to the tourists.
"Street photography is just as important to me, not as a source of revenue, but as a source of inspiration. I cannot only devote myself to the beautiful Stockholm", he says.
"I have a real dream project, a larger table book with more space and a different selection of photos. It should be a book with more room for the residents of the city. I think the people of Stockholm are very exciting with a large mix of different cultures."
Even when it comes to demographics Stockholm stands out. There are many international cities in the world, but Stockholm is special, says Ola Ericson.
"The multiculturalism is evident, and no face on the street looks like another one. The full color range is represented, which makes the street life and city vivid. Sure there are a lot of tourists, but far from all people representing other cultures that you meet on the streets are tourists. Most of them are residents and they live here."
The fun of street photography is that so much is given to you, says Ola Ericson.
"You can plan to a certain extent, but the best photos are those that come to you as small gifts. You can often tell when a picture is elaborately planned. What I want is to find a picture that gives me the life of the unplanned snapshot."
He is looking for not knowing what he will encounter. He might know where to go, but not what or who he will meet. You cannot sit at home and plan the pictures in detail.
"When I shoot people in street situations, I cannot and do not want to arrange them. I have too much respect for the natural course of events, and if I influence the subject with my presence it feels more like a manifestation of myself than letting them speak for themselves."
Ola Ericson also says that it gives him a chance to develop as a photographer, and that he gets so much back in terms of new experiences and inspiration.
About Ola Ericson
Age: 49 years
Lives: Close to the square Mosebacke torg, on Södermalm. "It is a great place to live, with a lot of life on Götgatan and views of the city. There are old wooden blocks. I have found my home."
Family: Girlfriend and two almost grown up children from a previous relationship.
Role models: Brave street photographers like Bruce Gilden and the Englishman Martin Parr.
Instagram: @stockholmfoto
Website: stockholmfoto.se
Photos: © Ola Ericson