What to do when in Stockholm? There are more answers to that question than you can possibly imagine, but let's focus on the many museums spread across the city – and more particularly, the ones that offer free entry.
Below you'll find a list of museums that you can visit free of charge, along with a brief description of what you'll find there. Please note that many (but not all) museums in Sweden are closed on Mondays, so click on the link provided to plan your visit.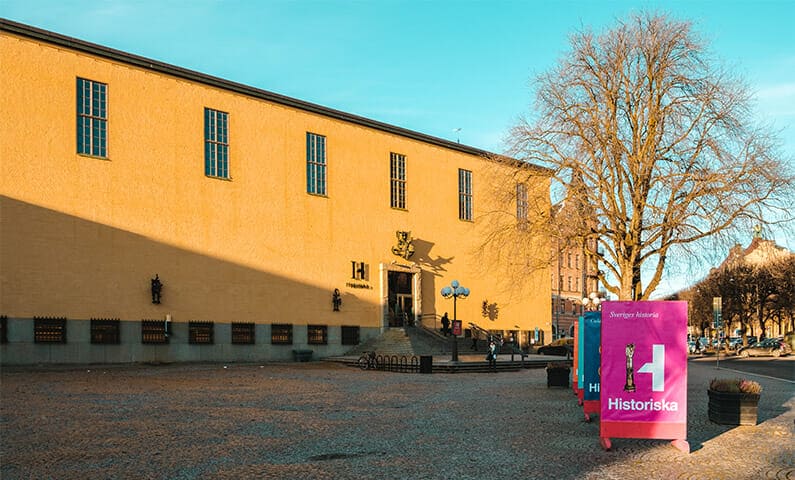 The Swedish History Museum (Historiska Museet) is located in the Östermalm section of town just a few minutes from Karlaplan subway station and offers a window into Sweden's lengthy and lively history. New exhibitions open regularly alongside the permanent collection.
Narvavägen 13-17, Östermalm
Modern Museum in Stockholm – Photo: © Holger Ellgaard/Wikimedia Commons
One of the best museums Stockholm has on offer, Modern Museum (Moderna Museet) regularly stages exhibitions of the most interesting contemporary artists working today, as well as retrospectives and a stunning permanent collection that is changed up often. There is also a top-of-the-line restaurant, café, and wine bar, all offering stunning views, and a gift shop that is worth a visit in and of itself.
Exercisplan 4, Skeppsholmen
Swedish Museum of Natural History
Swedish Museum of Natural History – Photo: © canyalcin/Shutterstock.com
With ten permanent collections that explore our natural world in a wholly unique way, along with visiting exhibitions that deepen our knowledge, the Swedish Museum of Natural History (Naturhistoriska riksmuseet) is perfect for the whole family. While entry is free Cosmonova, with its IMAX theatre, will cost 60 SEK for children and 120 SEK for adults.
Swedish Center for Architecture and Design
Swedish Center for Architecture and Design – Photo: © ArkDes
Given Sweden's global reputation for innovative and beautiful design it's no surprise there is a museum devoted to this area. What makes the Swedish Center for Architecture and Design (Arkitektur- och designcentrum), also called ArkDes, unique is that it not only offers in-house exhibitions, it also offers tours of the city to discover and explore wonderful Swedish design through the ages.
Exercisplan 4, Skeppsholmen
Three floors exploring the history of both war- and peacetime, the Army Museum (Armémuseum) looks at conflict through the eyes of those who lived it. Guided tours compliment the extensive collection, which includes vintage uniforms you can try on and some of the most amazing artifacts detailing life at various periods through history.
Riddargatan 13, Östermalm
Museum of Ethnography – Photo: © Daderot/Wikimedia Commons
A place to explore the whole world, the Museum of Ethnography (Etnografiska Museet) houses a massive and varied collection that focuses on art, culture, and food. The museum has also recently opened up its storage and brought out more than 6000 items for viewing, so if monkey traps, poisonous arrows or a leopard mask gets you excited this is the place for you.
Djurgårdsbrunnsvägen 34, Djurgården
Economy Museum – Royal Coin Cabinet
Photo: © Ekonomiska museet – Kungliga myntkabinettet
If you have an interest in the history of money, finance, and economics, along with social history and the art of medals, do visit the Economy Museum – Royal Coin Cabinet (Ekonomiska museet – Kungliga myntkabinettet), where you'll discover, among other things, the history of coinage covering 2,500 years, one thousand years of Swedish coinage, and archaeological finds dating back to Viking times. And if you bring children, you should not miss the Money Lab (Pengalabbet in Swedish), a room where young people can learn about finances and money. At the moment, the museum is relocating and will be opening in the same building as the Historical Museum on Narvavägen in November 2020.
Narvavägen 13-17, Östermalm
The Royal Armoury – Photo: © Erik Lernestål/Statens historiska museer
Founded by King Gustav II Adolph in 1628, the Royal Armoury (Livrustkammaren) is the oldest museum in Sweden. Perfect for history buffs, the museum houses robes from royal weddings and coronations, state coaches, and fascinating historic items such as the blood-stained shirt Gustavus Adolphus was wearing when killed in battle, along with the clothing worn by Gustavus III when he was assassinated at the opera in 1792.
Maritime Museum – Photo: © Anneli Karlsson, SMM/Wikimedia Commons
At the Maritime Museum (Sjöhistoriska museet) you get the history of the sea in a country where water is never far away. Learn about shipping and commerce, explore old maps and globes, marvel at the wreckage from a submarine, or enjoy one of the regularly scheduled exhibitions.
Djurgårdsbrunnsvägen 24, Djurgården
The National Museum (Nationalmuseum) is the largest art museum in Sweden and located on Blasieholmen. The collection consists of paintings, sculpture and paper works from about the 1500s to the 1900s, as well as art craft and design objects from the 1500s to the present. The total number of objects is about 600,000. The National Museum has been renovated for several years and reopened in October 2018.
Södra Blasieholmshamnen 2, Norrmalm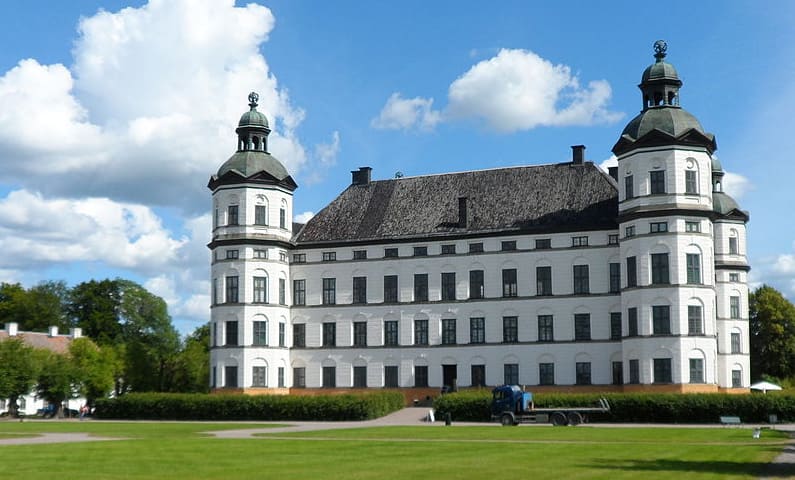 Skokloster Castle – Photo: © MyMichelle/Wikimedia Commons
Situated midway halfway between Stockholm and Uppsala on a peninsula that reaches out into the breath-taking Lake Mälaren, Skokloster Castle (Skoklosters slott) was built between 1654 and 1676 and is considered one of the great castles of Baroque Europe. Oddly, it was never completed and much of the castle remains amazingly untouched, such as the banquet hall, where the tools laid down by workers are still where they left them.
Skoklosters slott, Skokloster
Museum of East Asia – Photo: © Daderot/Wikimedia Commons
In the World Culture Museums (Världskulturmuseerna) – Mediterranean Museum (Medelhavsmuseet) and Museum of East Asia (Östasiatiska Museet) – you can discover ancient Greece, Rome, Egypt and the Far East right in the heart of Stockholm. With collections ranging from mummies to ancient Egyptian footwear and coffins, along with incredible archives and an exploration of expeditions, this collection of museums will inspire you in a way you might not have imagined.
Mediterranean Museum
Fredsgatan 2, Norrmalm
Museum of East Asia
Tyghusplan 4, Skeppsholmen
We wish you a wonderful day, filled with new knowledge, at the museums in Stockholm with free entry!
Featured image: © Erik Lernestål/Statens historiska museer
Find the museums with free entry on the map
Title

Address

Description

Narvavägen 13-17, 114 84 Stockholm, Sverige

Narvavägen 13-17
114 84 Stockholm

Exercisplan 4, 111 49 Stockholm, Sverige

Exercisplan 4
111 49 Stockholm

Swedish Museum of Natural History

Frescativägen 40, 114 18 Stockholm, Sverige

Frescativägen 40
114 18 Stockholm

Swedish Center for Architecture and Design

Exercisplan 4, 111 49 Stockholm, Sverige

Exercisplan 4
111 49 Stockholm

Riddargatan 13, 114 51 Stockholm, Sverige

Riddargatan 13
114 51 Stockholm

Djurgårdsbrunnsvägen 34, 115 27 Stockholm, Sverige

Djurgårdsbrunnsvägen 34
115 27 Stockholm

Economy Museum – Royal Coin Cabinet

Narvavägen 13, 114 60 Stockholm, Sverige

Narvavägen 13-17
114 84 Stockholm

Slottsbacken 3, 111 30 Stockholm, Sverige

Slottsbacken 3
111 30 Stockholm

Djurgårdsbrunnsvägen 24, 115 27 Stockholm, Sverige

Djurgårdsbrunnsvägen 24
115 27 Stockholm

Nationalmuseum, 111 48 Stockholm, Sverige

Södra Blasieholmshamnen 2
111 48 Stockholm

Fredsgatan 2, 111 52 Stockholm, Sverige

Fredsgatan 2
111 52 Stockholm

Tyghusplan, 111 49 Stockholm, Sverige

Tyghusplan
111 49 Stockholm
Find the museums with free entry on the map
Title

Address

Description

Narvavägen 13-17, 114 84 Stockholm, Sverige

Narvavägen 13-17
114 84 Stockholm

Exercisplan 4, 111 49 Stockholm, Sverige

Exercisplan 4
111 49 Stockholm

Swedish Museum of Natural History

Frescativägen 40, 114 18 Stockholm, Sverige

Frescativägen 40
114 18 Stockholm

Swedish Center for Architecture and Design

Exercisplan 4, 111 49 Stockholm, Sverige

Exercisplan 4
111 49 Stockholm

Riddargatan 13, 114 51 Stockholm, Sverige

Riddargatan 13
114 51 Stockholm

Djurgårdsbrunnsvägen 34, 115 27 Stockholm, Sverige

Djurgårdsbrunnsvägen 34
115 27 Stockholm

Economy Museum – Royal Coin Cabinet

Narvavägen 13, 114 60 Stockholm, Sverige

Narvavägen 13-17
114 84 Stockholm

Slottsbacken 3, 111 30 Stockholm, Sverige

Slottsbacken 3
111 30 Stockholm

Djurgårdsbrunnsvägen 24, 115 27 Stockholm, Sverige

Djurgårdsbrunnsvägen 24
115 27 Stockholm

Nationalmuseum, 111 48 Stockholm, Sverige

Södra Blasieholmshamnen 2
111 48 Stockholm

Fredsgatan 2, 111 52 Stockholm, Sverige

Fredsgatan 2
111 52 Stockholm

Tyghusplan, 111 49 Stockholm, Sverige

Tyghusplan
111 49 Stockholm