Electric scooters have become a natural ingredient in Stockholm's streets. It's the perfect way to get around the city easily and quickly – you don't have to get stuck in a traffic jam or hustle with a crowd in public transport. And with your own electric scooter from Eltra, you get both more freedom, a higher quality vehicle, and save money in the long run compared to using a rental service for electric scooters.
Y
ou wake up in the morning, enjoy a good breakfast, and get ready for the day. Then it's time to seize the world on two wheels in the company of your own electric scooter that has been stored and charged to the max in the hallway during the night. The moment you get outside the door, just jump on the scooter (don't forget your helmet!) and go where you're going.
Life becomes easier – and cheaper. You avoid the hassle of bringing up an app and start looking for a scooter with enough battery. You simply start driving. How many times and how long you want without an increasing minute cost ticking in the background.
Say hello to your new best friend on the streets of Stockholm.
What's on the list today? Do you want to ride at Norr Mälarstrand and admire the view with the wind in your hair? Take a fabulous tour of Södermalm or swim all day at Brunnsviken? Head over to your buddy in Bagarmossen or grandmother in Aspudden? Or is it just an ordinary Wednesday and you're going to work in the city?
No matter what the day brings, an electric scooter from Eltra makes life easier. You ride in style, enjoy a true joy of driving, and the scooters are just as good for exciting all-day adventures in summer Stockholm as to quickly take you the last 200 meters from the subway to the client meeting. Comfortable, smooth, fun, and with complete freedom to explore the world. No wonder more and more people want to own an electric scooter.
Benefits of buying your own electric scooter
---
Investing in your own quality assured electric scooter gives you many benefits. It's simply your best friend on the streets of Stockholm.
>

You get more freedom

Using a rental service means that you end up being under time pressure; at the same time as you ride through the streets and squares, a minute cost ticks, which can quickly end up in fairly high amounts for a trip. There may also be restrictions on the number of trips you can take. By buying your own electric scooter, you decide for yourself which trips you take and how long they last. Five minutes to school or a full day excursion around Djurgården – it doesn't matter.
>

You get a more useful vehicle

A privately owned electric scooter is more useful and mobile than one from the rental services. It's easy to fold, and if you're a commuter, you can bring the vehicle from your home in the morning, into the subway, up and down the stairs, and then back home. No problem.
>

You save money

Initially, buying an electric scooter involves an expense, but in the long run, it'll be a cheaper alternative than both rental services, a car, and public transport. Further down the page, we have made price comparisons with both rental services and SL Access cards (Stockholm public transport). And at Eltra, there are also several different models in different price ranges to choose from.
>

You get a better electric scooter with higher quality

In general, the suppliers who work for rental services that target consumers have less focus on quality than the manufacturers who focus on sales. This means that you get a poorer electric scooter if you rent it compared to a self-owned vehicle. If you invest in your own, you get both higher durability and security. And that's just two of the upsides.
>

You're even more climate-smart

The fact that an electric scooter is powered by electricity makes it already an environmentally-friendly means of transportation. However, when it comes to the rental services' electric scooters, studies have shown that the life span isn't more than a few months, which unfortunately reduces the positive environmental effects. The reasons why scooters must be scrapped so quickly are several. They are used by many, are often carelessly handled by users, and thrown or dumped here, there and everywhere. Quality isn't always the best, either. With an Eltra electric scooter, you get a high-quality vehicle that lasts for many years – in short, a really climate-smart means of transport.
>

You save time

When you're in a hurry for a job meeting or dinner with the parents, it means extra stress to pick up your smartphone, launch an app and find a scooter that's both nearby and has enough battery. With your own electric scooter, you just hop on and drive off immediately, so you're guaranteed to arrive on time.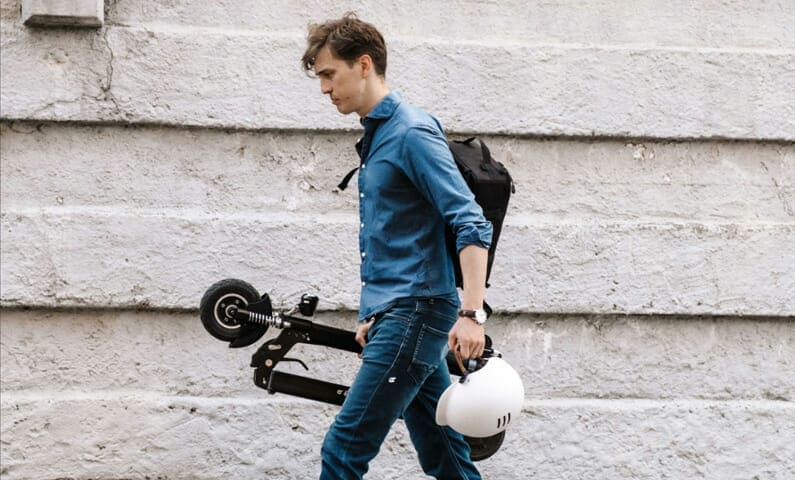 Maximize your commuter life
---
Everyone who has been stuck in heavy traffic in Stockholm knows that there are way more fun things to do with your time than creeping forward at a snail's pace, and after 15 minutes of drumming on the wheel, have only moved from one red light to another.
In most cases, the public transport option will allow you to arrive at your destination faster, but many of us have quite a long way to the nearest metro station or bus stop. And riding a bus or subway in rush hour isn't on many people's list of great experiences – if you even get a seat.
Of course, both options also involve costs. Owning a car is definitely not cheap. Apart from the fact that the car quickly loses value when used, fuel costs pretty much depending on how long distances you drive. In Stockholm, there are also costs for car tolls. An SL Access card costs less but is still a pretty hefty expense. Further down the page, we've compared the cost of driving an electric scooter and traveling with SL.
With your own electric scooter, you avoid both the everlasting traffic jams and the overcrowded public transport
With your own electric scooter, you avoid both the everlasting traffic jams and the overcrowded public transport. Getting to work is much more enjoyable, and an Eltra will take you wherever you're going, whether you have 500 meters or 25 kilometers to your workplace or school. In other words, it works just as well if you live in Bromma and work in Östermalm or live at Gullmarsplan and just have to ride across the bridge to your work in Södermalm.
The vehicles are becoming more and more popular. Today they're used by millions of commuters around the world who want a hassle-free, urban, and environmentally-friendly transportation that fits the speed of today's society.
3 different Eltra models – which one is right for you?
---
Everyone's lives are different and our preferences differ. Therefore, Eltra has developed several different models in different price ranges for different electric scooter drivers.
They vary in such things as weight, battery capacity, range, maximum speed, and performance – but what they all have in common is that they easily, quickly, and conveniently take you from point A to point B. Neither dirt roads, uphill, nor other obstacles affect the joy of riding. Who's your favorite?
>

Urban – the smoothest option

Urban is a neat lightweight that's easy to drive – a perfect first scooter. It can be folded fast so that you can, for example, take it to work or bring it on your vacation. It has a 350 W engine, a top speed of 35 km, a max distance of 25 km, and a 16 kg weight.

Price: 7,290 SEK (including VAT)
>

Premium – the acclaimed customer favorite

Premium is the most popular model and has received the highest rating in tests. It's stable and secure with high comfort, 10-inch tires, and a large foot pad that gives a great driving feeling. It has a 500 W engine, a top speed of 45 km, a max distance of 50-60 km, and a 23 kg weight.

Price: 9,900 SEK (including VAT)
>

Ultra – the top-notch model with super performance

Ultra is the model for those who want the best. Here you have an upgraded five-star model with excellent performance for fast and comfortable riding over both short and long distances. The foot pad is wide for stable and smooth driving. It has a 600 W engine, a top speed of 45 km, a max distance of 100 km, and a 28 kg weight.

Price: 14,490 SEK (including VAT)
An electric scooter from Eltra or an SL Access card?
---
Many people probably consider traveling with SL to be the cheapest transport alternative in Stockholm. But the fact is that in less than a year, you can earn the cost of an SL Access card if you invest in an electric scooter. The rest of the time, you travel for free – and the scooter will last considerably longer than a year. Avoiding crowding, delays, and not being tied to timetables are other nice benefits you get as part of the deal.
Today, an SL Access card costs 930 SEK per month (valid for 30 days).
>

Urban

Urban costs 7,290 SEK. This means that it only takes 7.8 months (7,290 SEK / 930 SEK = 7.8 months) before an electric scooter becomes cheaper than an SL Access card. With our discount code, it requires only 6.3 months.
>

Premium

The cost of a Premium is 9,900 SEK. To gain that cost, it takes 10.6 months (9,900 SEK / 930 SEK = 10.6 months) before you make a profit in terms of costs.
>

Ultra

The price for Eltra's top model Ultra is 14,490 SEK. If we compare the cost of buying a monthly SL Access card, it takes 15.5 months before it becomes cheaper with an electric scooter (14,490 SEK / 930 SEK = 15.5 months).
If you get the electric scooter Urban from Eltra, it only takes 7.8 months before it becomes cheaper than an SL Access card.
Eltra vs rental services
---
Today there are several rental services for electric scooters. But how do these services compare to investing in a privately owned electric scooter from Eltra? The numbers in the comparison below are from one of the major rental services currently available in Stockholm.
When you rent an electric scooter, you must unlock it first, which equals a cost of 10 SEK. After that, the cost per minute is 2.50 SEK, and an average journey lasts for 17 minutes. This gives us:
10 SEK + 2.50 SEK x 17 minutes = 52.50 SEK
The cost per trip with a rental service is thus 52.50 SEK. If we compare it to the cost of buying an Eltra, it looks like this:
>

Urban

Urban costs 7,290 SEK. This means that after just 139 trips with a rental service, it's cheaper with your own electric scooter (7,290 SEK / 52.50 SEK = 139 trips). If you take two trips a day for more than 70 days, you've earned the money.
>

Premium

The cost of a Premium is 9,900 SEK. 188 trips are required with a rental service to gain that cost, which isn't a lot for a frequent user of electric scooters (9,900 SEK / 52.50 SEK = 188 trips). 
>

Ultra

The price for Ultra is 14,490 SEK. If we compare the cost of using a rental service, 276 trips are required for the price of a privately owned electric scooter to be lower (14,490 SEK / 52.50 SEK = 276 trips). Above all, the model Ultra is for commuters, and then you pretty quickly do a large number of trips. 

Using an electric scooter rental service may feel like a good deal, and it's also cheaper at first. But as you can see above, the cost of renting adds up quickly. If you frequently use electric scooters, you have earned the purchase cost for your own quality assured scooter after just a few months of driving.
About Eltra
---
Eltra is a Stockholm-based company founded in 2019. The idea is to offer a strong range of high-performance electric scooters for adults and young people with high quality and stylish design. The electric scooters are for everyone from city people who want to quickly get around town to long-distance commuters with high demands on power, stability, and comfort.
At Kungsholms strand in Kungsholmen in Stockholm, you'll find Eltra's showroom and service center. Here you can get service and help with repairs of your electric scooter after your purchase. Besides, you can buy stylish accessories such as helmets, baskets, bags, and smartphone holders. Of course, you can also test drive your new companion before you make a decision.
Discount code for Eltra electric scooter – get 20% off
---
We at View Stockholm can confirm that owning an electric scooter makes life easier in many ways. Therefore, in collaboration with Eltra, we have created a unique offer for our visitors. With the discount code VIEWSTOCKHOLM, you get 20% off on the model Urban. Click here to order (valid until December 31, 2020)
Sponsored article in collaboration with Eltra.