Your guide to the best Comedy Clubs in Stockholm
- Where are all the funny people?
Are there any comedy clubs in Stockholm even? One can easily be fooled into thinking that Swedes lack a sense of humor. Especially when you're new to the culture, Swedes may come off as too rational, cold and definitely too serious. But actually that's not so true – given the right atmosphere (and a few drinks), you'll find that Swedes actually DO enjoy a laugh as much as any other nation.
Here are 5 of the best places for regular comedy shows in Stockholm – including stand-up, sketch and improv – most of them in English too!
Just a short walk from the Gamla Stan subway station, The Laugh House is a one of the most popular comedy clubs in Stockholm showcasing the best comedy Sweden has to offer. Performances are both in Swedish and English every Saturday night. Wednesday Nights from March through May are Open Mic nights if you're feeling brave and perhaps want to give stand-up comedy a try?
Västra Järnvägsgatan 11, Norrmalm/City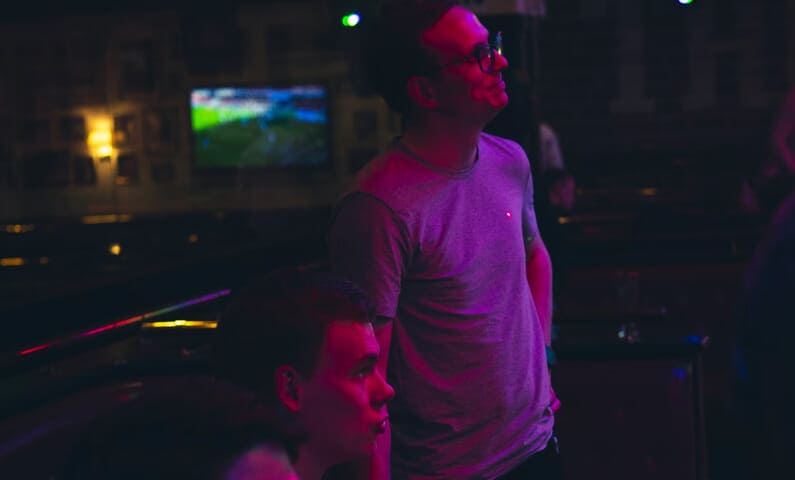 Enjoy the shows at Stockholms comedy clubs – Photo: Emil Widlund/Unsplash
One of Sweden's first stand-up comedy clubs where the most popular Swedish comedians take to the stage along with international guest appearances. Every Thursday they now run the fantastic Beer'n Play Comedy Club, where you can experience live comedy whilst enjoying an assortment of craft beer, neapolitan pizzas and burgers. In warm up to the show, you can play a game or two of pinball, arcade games, shuffleboard etc.
Hornsgatan 138, Södermalm
03
Stockholm Improv Comedy Club
Wednesday's downstairs at the famous Irish pub in Old Town ('Gamla Stan'), The Liffey, you will be treated to the best Improv Comedy teams in Stockholm. Every week it's a completely new show with a wide variety of different acts delivering hilariously fast-paced comedy made up on the spot based on suggestions from the audience. All shows are performed in English.
Stora Nygatan 40, Old Town
The comedian Mårten Andersson performs at RAW Comedy Club – Photo: Raw Comedy Club/Wikimedia Commons
Founded in 2004 already and a bit of an institution, the very popular RAW can be found every weekend at the Hilton Stockholm Slussen. Performances are primarily by well-known Swedish comedians, but sometimes international english-speaking stars are also part of the program. It's one of the biggest comedy clubs in Stockholm, holding around 300 seats which tend to go very fast, so book in advance to avoid disappointment.
05
Big Ben StandUp Comedy
BigBenStandUpComedy offers comedy EVERY DAY at 8pm at the popular pub in Södermalm, Big Ben! Mixing new and experienced comedians, both Swedish and English speaking; with headliner shows on Fridays and Saturdays. These are advisable to book in advance as there's only 49 seats. Thursdays is the International Night with only English speaking acts.
Folkungagatan 97, Södermalm
Have fun at the best comedy clubs in Stockholm
---
So yes, if you've been looking for the funny people in the city? You'll find them at one of these comedy clubs in Stockholm.
Find the comedy clubs on the map
| Title | Address | Description |
| --- | --- | --- |
| | Västra Järnvägsgatan 11, 111 64 Stockholm, Sverige | Västra Järnvägsgatan 11 |
| | Hornsgatan 138, 117 28 Stockholm, Sverige | Hornsgatan 138 |
| Stockholm Improv Comedy Club | Stora Nygatan 40, 111 27 Stockholm, Sverige | Stora Nygatan 40 |
| | Guldgränd 8, 104 65 Stockholm, Sverige | Guldgränd 8 |
| | Folkungagatan 97, 116 30 Stockholm, Sverige | Folkungagatan 97 |
| Title | Address | Description |
| --- | --- | --- |
| | Västra Järnvägsgatan 11, 111 64 Stockholm, Sverige | Västra Järnvägsgatan 11 |
| | Hornsgatan 138, 117 28 Stockholm, Sverige | Hornsgatan 138 |
| Stockholm Improv Comedy Club | Stora Nygatan 40, 111 27 Stockholm, Sverige | Stora Nygatan 40 |
| | Guldgränd 8, 104 65 Stockholm, Sverige | Guldgränd 8 |
| | Folkungagatan 97, 116 30 Stockholm, Sverige | Folkungagatan 97 |