Looking for something fun and different to do in Stockholm city? Perhaps you're looking to make date night EXTRA special, or you've always wanted to attend a classical concert but the thought of a 2 hour performance was simply too daunting – and the ticket price too high? Well folks, the platform Fever is very excited to bring their popular candlelight concert concept to Stockholm!
F
orget vitamin D supplements, imagine the light from 2,000+ candles (don't worry they're LED) fluttering in a beautiful, dramatic space with great acoustics e.g an old cathedral, gallery or a historical landmark. Imagine being able to show up as you are, 100% authentic and the experience of listening to incredibly talented classical local musicians moving you with the sound of their piano and string instruments in the most beautiful intimate setting.
As the whole candlelight concert is just 60 minutes, it's perfect for first-time classical performance goers to carefully dip their toes in the water, but also a great idea to squeeze in before a nice dinner out and make the evening just that little bit more extra. Maybe also take the kids on a cultural excursion before bedtime?
Enjoy the works of the greatest composers such as Vivaldi, Chopin, or Beethoven, but also a more modern approach of tribute concerts to great musicians/bands such as Queen, Coldplay, Taylor Swift or even Abba. Fever has succeeded in bringing classical music to a brand new audience and bridging the gap between the older and younger generations, with 70% of these candlelight concert goers under the age of 40 (please note that children must be 8 years old and up to be allowed). The shows are carried out in over 90 cities around the world and over 3 million tickets have already been sold.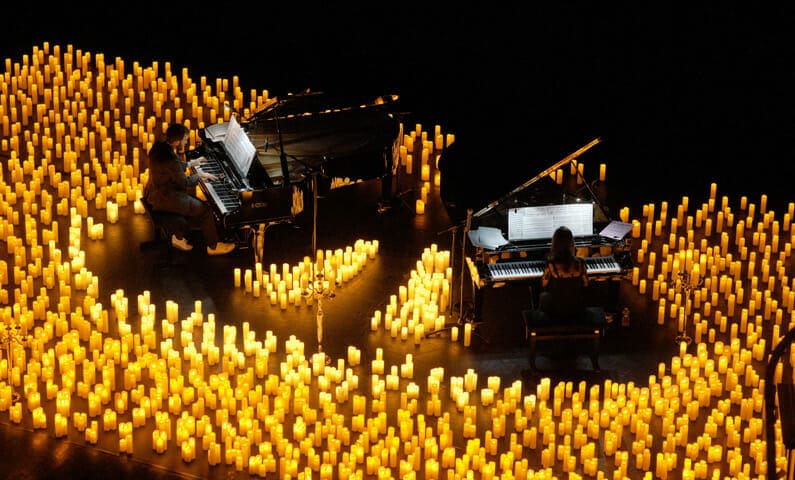 Dates for the candlelight concerts in Stockholm
---
Stockholm has two candlelight concerts lined up so far in the grand Norra Latin on Drottninggatan, with more to come soon. Tickets range from 210-440 SEK depending on the seating category.
These are the dates:
Candlelight Concert: Vivaldi Four Seasons (Tuesday, June 7, 7 pm + 9 pm)
Candlelight Concert: A Tribute to Ludovico Einaudi (Friday, July 8, 7 pm + 9 pm)
About Fever
---
Fever is the leading global live-entertainment discovery platform with a mission to democratize access to culture and entertainment in real life and delivers you with a tailor-made curated list of the most exciting events, things to do and to see in your city.
Buy your tickets
---
For more information on the candlelight concerts in Stockholm, or to purchase tickets, click here.
Sponsored article in collaboration with Fever.
Photos: © Fever