As the cold weather sweeps across Stockholm what better way to warm up than bundling into a cozy pub and sipping a pint or two with friends and family. Stockholm's café culture is legendary its pub tradition isn't quite what you might find in the UK – but it has developed in recent years, so you won't have to go far to find one.
Here are of View Stockholm's favourite pubs in the city.
Kvarnen – a classic pub in Södermalm
This is a traditional Swedish pub that has been keeping locals cozy and happy since 1908. Located on Stockholm's trendy Södermalm Kvarnen is perfect for those times when you're with a big group and want to know you'll get a table. It's on the tourist map these days due to its mention in Stieg Larsson's Girl with the Dragon Tattoo but don't let that put you off. It's worth a visit – if only for the incredibly diverse crowd it draws.
Tjärhovsgatan 4, Södermalm
With its expat staff and rough and tumble interior Southside is friendly and warm – and it hosts a great traditional pub night (Thursdays). And while it's located in the heart of hipster Söder it's anything but trendy. Catch your sports here with your mates while trying out the excellent selection of lagers and bitters. It also serves top-notch burgers.
Hornsgatan 104, Södermalm
It's not pretty, it's not glamorous, it's known for its casual atmosphere – but this Södermalm staple serves some of the cheapest beer in the city, attracts a pretty eclectic crowd and when it doesn't have live music the soundtrack remains loud and definitely for the rocker in you. The food is decent, the service negligible, the décor raw, and technically speaking it probably can't really be classified as a pub – so why do we like this place again? Because it's been around for what feels like forever and sometimes a night of beer and rock'n'roll is all you really need.
Folkungagatan 49, Södermalm
Tudor Arms – the first British pub in Stockholm
It's the oldest British pub in Stockholm (they turned 50 in 2019) that is so very properly English that it actually closes at 11 pm. It's also been voted one of the best pubs outside the UK and as soon as you enter you understand why: with a good mix of locals, expats and tourists the Tudor Arms is warm, inviting, a bit quirky – and so is the gregarious second-generation owner. The food is standard pub fare, there's a mix of Swedish and imported beers, and if you can't get a seat someone is sure to let you share their table.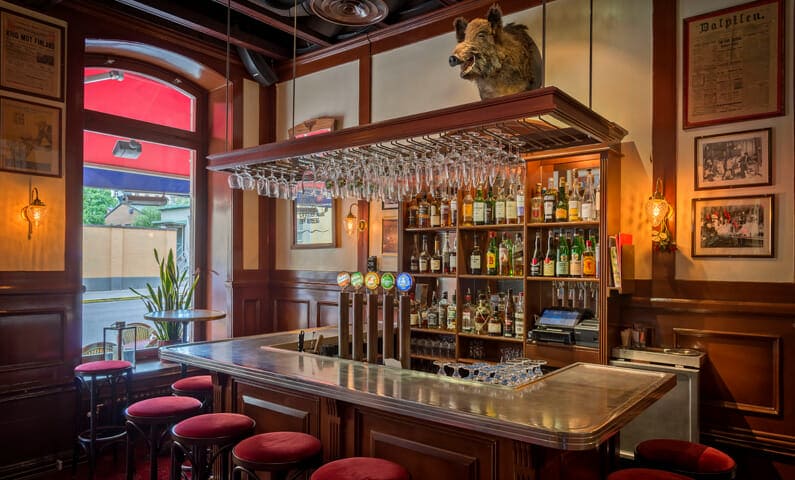 Tennstopet – a true classic on the Stockholm pub scene
Tennstopet has been a stalwart on the Stockholm scene for more than a century and you feel it as soon as you walk through the door, where you immediately hand your coat over before turning to the left for the lively pub or to the right for the more formal classic Swedish dining room. Since we're talking about pubs let's talk: the main bar room is stuffed with tables and the atmosphere is buzzing. Keep walking and you'll enter a small cozy area with two tables crammed in – perfect for a more intimate moment. Then it's on to the next room, with features darts and a small bar, followed by a further room in the back. The food is good, the drinks are plenty, and this is where locals really let their hair down.
The Queen's Head is one of Stockholm's favorite pubs – well located, a great atmosphere, an excellent selection of beer, and a menu that will satisfy. Throw in TV's scattered about that will show the game of the moment, a friendly staff, a nice mix of locals and visitors, and some pretty funny bathrooms (we won't spoil it for you) and even a great central location and we can only ask: why aren't you heading there right now?
Drottninggatan 108, Vasastan
It's the only Irish-owned bar in Stockholm (and you'll know it the second you walk through the door) and sits in a fantastic location in the heart of Old Town. Wirströms also offers live sports, free live music in the basement, a stellar mix of Swedish and international craft beer, and some pretty great food. What makes Wirströms really stand out, though, is the staff, which has a reputation for being beyond friendly and welcoming.
Stora Nygatan 13, Old Town
Oliver Twist – Photo: © Tavallai/Flickr
Known for an excellent selection of craft beer (the selection changes regularly so check their website or Facebook page), a wide variety of whiskey to choose from, and a pretty great menu (try the BBQ Bourbon Burger), as well as a legendarily friendly staff (the chef is known to come out and chat with guests) Oliver Twist is a firm favorite in Södermalm, an area of the city that has its fair share of pubs. The crowd leans local, which means the game on the screen probably is as well.
Repslagargatan 6, Södermalm
Good food, good drink, good atmosphere – and it's all found just a stone's throw away from bustling Högtorget. As the name suggests, The Auld Dub is Irish in flavor, and it's known for pumping out rivers of Guinness daily. The inside is cozy and warm, while the roomy outside area has plenty of room for your group (and offers some prime people-watching opportunities). The great crowd includes workers from the surrounding offices stopping by for an after-work, locals who have made it their second home, and tourists who stumble upon it after a day of shopping on nearby Drottninggatan.
Holländargatan 1, Norrmalm/City
Flying Scotsman – Photo: © Flying Scotsman
Because it's a bit off the beaten tourist track, the Flying Scotsman is a real local hangout. The menu is limited but tasty, there is always a new beer to try out, and the soundtrack often has people breaking out in song as the night deepens. Did we mention this is a local hangout? We did indeed – it's the kind of place where the bartender calls out a greeting as people come through the door.
Fleminggatan 28, Kungsholmen
View Stockholm lifts as glass to all of you visiting our beautiful city. See you at the best cozy pubs in Stockholm. Cheers!
Find the cozy pubs on the map
| Title | Address | Description |
| --- | --- | --- |
| | Tjärhovsgatan 4, 116 21 Stockholm, Sverige | Tjärhovsgatan 4 |
| | Hornsgatan 104, 117 26 Stockholm, Sverige | Hornsgatan 104 |
| | Folkungagatan 49, 116 22 Stockholm, Sverige | Folkungagatan 49 |
| | Grevgatan 31, 114 53 Stockholm, Sverige | Grevgatan 31 |
| | Dalagatan 50, 113 24 Stockholm, Sverige | Dalagatan 50 |
| | Drottninggatan 108, 113 60 Stockholm, Sverige | Drottninggatan 108 |
| | Stora Nygatan 13, 111 27 Stockholm, Sverige | Stora Nygatan 13 |
| | Repslagargatan 6, 118 46 Stockholm, Sverige | Repslagargatan 6 |
| | Holländargatan 1, 111 36 Stockholm, Sverige | Holländargatan 1 |
| | Fleminggatan 28, 112 32 Stockholm, Sverige | Fleminggatan 28 |
Find the cozy pubs on the map
| Title | Address | Description |
| --- | --- | --- |
| | Tjärhovsgatan 4, 116 21 Stockholm, Sverige | Tjärhovsgatan 4 |
| | Hornsgatan 104, 117 26 Stockholm, Sverige | Hornsgatan 104 |
| | Folkungagatan 49, 116 22 Stockholm, Sverige | Folkungagatan 49 |
| | Grevgatan 31, 114 53 Stockholm, Sverige | Grevgatan 31 |
| | Dalagatan 50, 113 24 Stockholm, Sverige | Dalagatan 50 |
| | Drottninggatan 108, 113 60 Stockholm, Sverige | Drottninggatan 108 |
| | Stora Nygatan 13, 111 27 Stockholm, Sverige | Stora Nygatan 13 |
| | Repslagargatan 6, 118 46 Stockholm, Sverige | Repslagargatan 6 |
| | Holländargatan 1, 111 36 Stockholm, Sverige | Holländargatan 1 |
| | Fleminggatan 28, 112 32 Stockholm, Sverige | Fleminggatan 28 |