Are you visiting Stockholm with playful children and want to find Stockholm's best playground? Or are you a Stockholmer and want tips on new fun playgrounds in the city that you and your family can visit? No matter what time of year, the little ones need to play around, and fortunately, Stockholm is full of fun parks where you can spend many hours.
Find the right playground in Stockholm for your family
---
Considering that the Stockholm area has over 300 different playgrounds – in different sizes and levels of ambition – it's not always easy to find the top choices. That's why we've compiled a guide to help you find your favorite.
The parks in the guide are of equal importance, and it contains playgrounds both in the city center and in different areas outside the city. Of course, every park is free to visit. What will be Stockholm's best playground for your family?
Vasaparkens parklek
The kids can have lots of fun at Vasaparkens parklek
One of the city's most central playgrounds is also one of the best, and there's a lot to discover. This staffed playground in Stockholm has something for children of all ages (and also their parents), including swings, bikes, and toys for lending, sandboxes, trampolines, ping-pong tables, and slides. For the football enthusiast, there's also a full-sized field right beside. In the winter, it turns into a skating rink.
An additional advantage with this oasis in Vasastan is the proximity to restaurants, cafes, toilets, and other things you may need, which makes Vasaparken's playground an attractive destination for the family with children. The nearest subway station is S:t Eriksplan, but also Odenplan with both buses and commuter trains is nearby.
Mulle Meck-parken
Do you dare to enter the exciting shark rocket in the Mulle Meck park?
Between Solna and Sundbyberg in Järvastaden, you'll find the tremendously popular Mulle Meck park. This theme park, based on the Swedish children's book character Mulle Meck's world, has about 100,000 visitors annually and is a given day trip for families with children traveling to Stockholm.
In this imaginative park, Mulle Meck and his friends have gathered to offer the children many fun and exciting experiences. The kids get the opportunity to play in old cars, airplanes, and boats, and see what a workshop can look like. They can visit the restaurant Chez Nous, Daisy Diesel's garage, Gårdan van Gågg's studio, the shark rocket, or get lost in a flower maze. There's also an appreciated summer library. In summary, there's a lot to explore, and the children's satisfaction with this playground is pretty much 100% guaranteed.
There's plenty of parking next to the park as well as a cafe. Nearby there's also a grocery store and various restaurants.
Kristinebergs slottspark
Kristinebergs slottspark, a.k.a. 'The Owl Park' – Photo © Holger Ellgaard / Wikimedia Commons
The two majestic owls, 5.5 meters high, are hard to miss if you've ever walked past Kristinebergs slottspark in Kungsholmen. The exciting opportunities to climb into the owls satisfy the children's curiosity about what the animals might look like inside, and then they can ride the slide down. At this fabulous playground, where all the playing equipment is made of wood, there are also large ants to balance on, carousels in the form of spinning mushrooms, flowers with hammocks in between, and giant beetles. Keep in mind that some play equipment can be quite challenging and, therefore, more suitable for older children.
'The Owl Park' ('Uggleparken' in Swedish) as it is called, is located right next to Kristineberg's subway station where there is also a mini-golf course which is popular during the summer.
Nordenflychtsvägen 30, Kungsholmen
Humlegårdens parklek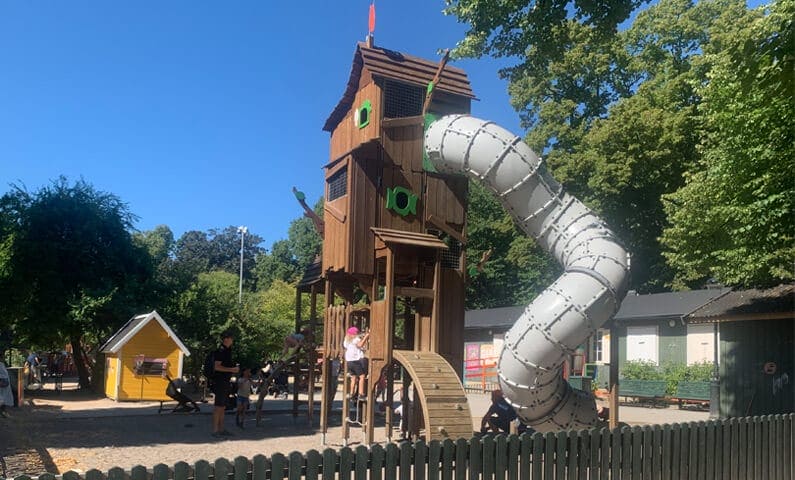 Humlegårdens parklek is a popular playground in Stockholm with lots of fun for the kids
If you have playful children in central Stockholm, Humlegårdens Parklek in Östermalm is among the best. This large and popular playground is located near Karlavägen and is divided into several sections adapted for children of different ages. Here's everything the kids could wish for in terms of play and fun – climbing frames, slides, playhouses (Pippi Longstocking's house is a favorite among the toddlers), sandboxes, swings, spring rockers, seesaw, a train, basketball hoops, and a ball field.
When the center is staffed, they organize fun activities (also indoors), and a wide range of play equipment is available for loan, including bicycles, buckets, shovels, and balls. During the winter, sleds and slider mats are also available. And if the children (or their parents) get hungry while playing, there's a barbecue area with plenty of seating. Humlegården Parklek also has toilets.
If you have older children, there's a ball field with artificial grass, a street area, and a skateboard ramp adjacent to the playground. And if you want to continue your cozy family hangout after you're done playing, the lovely park Humlegården awaits you.
Karlavägen 32C, Östermalm
Björklunds Hage 4H-gård
At Björklunds Hage's 4H-gård, the kids can meet several animals including sheep
Björklunds Hage is a 4H-gård (Swedish term), located in a nice residential area in Bromma in western Stockholm. Here you can meet various animals such as sheep, rabbits, pigs, chickens, and there are many different playing opportunities. The kids can pick and choose between climbing the high climbing frame, skateboarding in a classic skatepark, or why not just swing? There is simply something for kids of all ages.
Also, there's a nice café that offers coffee and lighter lunches. Or why not have a cozy picnic? You can get here by subway to Islandstorget and then take a ten-minute walk.
Liljegrensvägen 5–7, Norra Ängby
Siggesta Gård
The miniature golf course at Siggesta Gård – Photo © Udo Schröter / Wikimedia Commons
If you want to leave the city and have a rural experience where the children can see alpacas closely, get through an adrenaline-stuffed obstacle course in the woods, and walk an exciting troll path? Then Siggesta Gård is the place for you! Far out on Värmdö in Stockholm's beautiful archipelago you'll find this gem with fun outdoor activities for both children and adults.
If the family likes different golf types, there are many choices; adventure miniature golf, disc golf, and football golf.
You can easily spend a full day at Siggesta Gård, where the popular lunch restaurant serves food with lots of locally grown vegetables. The simplest way to get here is by car, but there are also buses from Slussen.
Stora Blecktornsparken
If you're looking for a large playground in Stockholm with animals, which is also centrally located, Stora Blecktornsparken in Södermalm is the choice for you. There are great playing opportunities for young and old – including swings, cableway, sandboxes, climbing frames, bicycles, basketball court, and ping-pong tables. In the park, there's also a fantastic slide, one of the largest in the city, and a good sledding hill in the winter where you can lend riding equipment.
Stora Blecktornsparken is located in a scenic setting with large green spaces, perfect for running and playing around. The park also offers various activities all week, such as hot dog barbecues, painting workshops, and rabbit jumping. The animals available are sheep, pigs, rabbits, guinea pigs, and goats.
It's a ten-minute walk from Skanstull subway station to get here, and it's a perfect destination for the whole family if you are going to spend the day in Södermalm. There is a mini café and indoors also a bathroom, nursery room, kitchen, and playroom. In addition, it's close to everything you could ever need, such as a big ice cream if you want to take a break from the fun.
Katarina Bangata 80A, Södermalm
Rålambshovs parklek
Rålambshovs parklek is the place to be when you want some family fun in Kungsholmen
This playground is a creative creation located in one of Stockholm's most popular parks Rålambshovsparken in Kungsholmen. With lots of playing equipment and various activities, this colorful playground inspires the children in a wonderful way. Especially the craft workshop is worth a visit. There the children can use their imagination by crafting and designing with pipes, planks, sticks, and other things.
Rålambshovs parklek is a perfect destination if you want to spend a sunny day in the central parts of town. In addition to the playground, there are, among other things, a skatepark, basketball court, volleyball court, ball court, paddling pool, and bathing place.
You can easily get here by subway to Thorildsplan or buses that stop near the bridge Västerbron.
Smedsuddsvägen 6, Kungsholmen
Långsjöparken
The derailed and sinking locomotive in Långsjöparken – Photo © Holger Ellgaard / Wikimedia Commons
Långsjöparken is another excellent alternative if you don't mind taking a day trip outside Stockholm city. Right next to the scenic lake Långsjön in Huddinge, there's a unique playground based on historical sites and events in the area – which makes this innovative park an exciting experience even for the children's parents (or why not grandma or grandpa).
Here are many small houses and old vehicles where curious children can discover all the exciting details. Play store at Loffe's Grill, climb the derailed and sinking locomotive, or explore the gas station. You can also take a lovely ride on the bike carousel with imaginative dream and speedway bikes. Playful is definitely the keyword.
Next to the playground are grass areas and a football field, and if the weather is nice, it's only a short walk to a beach. If you have some extra time, you can also go exploring in the woods nearby.
The playground is about 15 minutes walk from Stuvsta station.
Stambanevägen 108, Huddinge
Anders Franzéns park
Anders Franzéns park – Photo © Holger Ellgaard / Wikimedia Commons
If any of the family's younger members are interested in boats and ships, you must come here! Anders Franzén's park in Hammarby Sjöstad is a playground containing a shipyard, a mechanical workshop with various machines, carpentry, and a tugboat. It's simply a small port city for the kids to play in, climb in and explore everything there is – and every detail is original from different workshops. The charming and creative playground is named after the marine engineer and amateur scientist Anders Franzén who found the Vasa ship in 1956.
There is also a football field and a playground with swings, slides, and playing equipment for the toddlers. For the older children, there's also a skatepark. The park is located next to Henriksdalshamnen and to get here, you can take the bus from Slussen.
Båtklubbsgatan 2, Hammarby Sjöstad
Tessinparkens parklek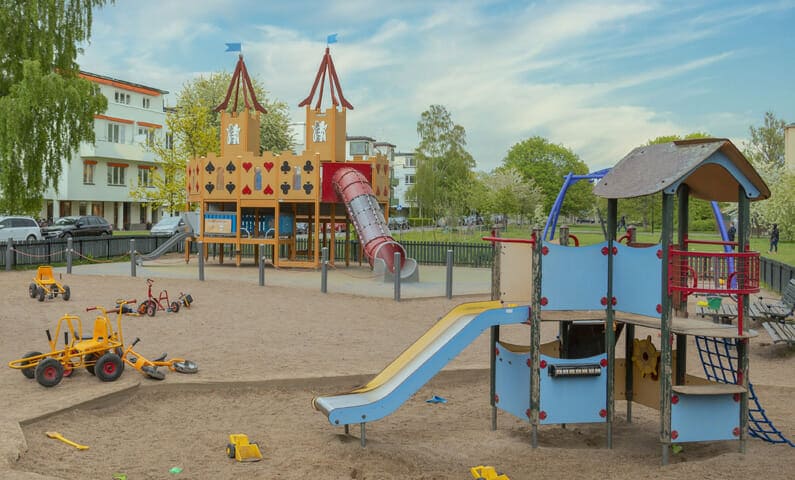 Tessinparkens parklek is a great playground in Östermalm/Gärdet
Tessinparken's parklek in Gärdet near Östermalm is a centrally located playground in Stockholm. What stands out is the climbing frame in the form of a castle that is something out of the ordinary. Seven meters high with two towers and a fun slide make this attraction an adventure for climbing craving kids.
There are also several playhouses, sandboxes, nest swing, swings, baby swings, and tire swings. The park also has a cottage village with playhouses, a combined basketball and bandy course, and a football field with artificial grass. If you want to take a plunge, there's a nice large paddling pool with an outdoor shower during the summer, and the park has many seats, both in the sun and shade, for mum and dad.
You can easily get to Tessinparken by subway to Karlaplan or buses that stop near the Fältöveresten mall.
Bandängens parklek
Bandengens parklek is also located a bit outside the city center, more specifically between Högdalen and Bandhagen south of Stockholm. But this modern super playground is well worth the trip. Here you'll find, among other things, one of Stockholm's highest slides, a great climbing frame in the form of a castle, large wooden playhouses, swings, playing sculptures, playing towers, mirrors, cabins, and climbing logs – in short everything the family needs for a whole day of fun. In addition, there's a small field for football and basketball. Please note that some of the playing equipment is suitable for older children.
In connection with the playground there are also animals – goats, sheep, pigs, rabbits, guinea pigs, and chickens – a real miniature Skansen! When the playground staff is present, the children can borrow bikes, moon cars, balls, board games, and various other toys. There are also opportunities for indoor games in the park house where you can play ping pong, billiards, reading, have coffee, and more.
In summer, you can swim in the fine paddling pool with purified and chlorinated water and in winter you can instead ice-skate or ride a sledge. The park is just a five-minute walk from the Bandhagen subway station.
Björksundsslingan 35, Bandhagen
Ivar Los park
Ivar Los park – Photo © Holger Ellgaard / Wikimedia Commons
Ivar Los park is another awesome playground on Södermalm. This is also a theme playground created by the artist Tor Svae, who is also behind, among others, Anders Franzén's park and the Mulle Meck park. The cozy and playful park, located on the heights of Södermalm, on Mariaberget, has been named after the Swedish author Ivar Lo Johansson who lived nearby. In addition to an Astrid Lindgren idyllic environment with excellent playing opportunities for the little ones, the park also offers a magnificent Stockholm view. If we were to make a list of playgrounds with the finest views, Ivar Los park would undoubtedly be number one.
The playground should remind you of an old-fashioned country environment, and here are nice small houses and a farmhouse with a barn to explore. The kids can also have fun with an old tractor from 1952, horse and carriage, and several wooden animals that they can ride on. Besides, there are swings, a bicycle carousel, an artificial grass field, and a huge hollow tree to crawl into.
If you want to take a break in the playing, there's a nice green area below the playground. It's perfect for picnics in the summer sun (and just as perfect for sledding in the winter). From here, you can enjoy the magnificent Riddarfjärden below you – the sunsets are unbeatable. Also, take the opportunity to walk along the beautiful path Monteliusvägen located nearby. The easiest way to get to Ivar Los park is by subway or bus to Mariatorget (it's hard to find a parking lot in the area), and you're close to both cafes and restaurants.
Have fun playing in Stockholm's playgrounds
---
We hope that you and your children will find your new favorite among Stockholm's best playgrounds. And if you want to find more good playgrounds in the Stockholm area, visit lattja.app or follow @lattja_lekplatser on Instagram. No go out and play!
Find the playgrounds on the map