Stockholm's Sofo on Södermalm – so-called because it's south of Folkungagatan – has gained a reputation as the trendiest, hippest part of the city. Here is where you'll find plenty of beards, tattoos, Amish hats, and large black-framed specs – and here is also where you'll find some of the coolest shops, café's, clubs and bars.
Check out some of our favorite haunts.
As expected, Sofo is crawling with vintage and one of the best places to find
vintage clothing
is at Lisa Larsson Second Hand, where the shop is literally packed to the rafters with top-quality finds. It's slightly on the pricey side but the excellent selection is well worth shelling over a few extra kronor if need be.
Yep, it had to happen eventually and it definitely had to happen on Södermalm. This is the place to go for all things meatball – and not just your traditional Swedish meatballs, but all kinds. And because this is Sofo there is also a vegetarian option.
Nytorget – the heart of SoFo
This charming square is in many ways the heart of Sofo. The square is a park and playground and all four sides are lined with shops, café´s and restaurants. In the summer it's lined with pavement seating and in the colder months, it's cozy and cool.
The name says it all: it's the ultimate Sofo hotel, with excellent prices in a city not known for cheap stays. It's small, charming, and known for excellent service. The best bit? It's in the heart of Södermalm but tucked away on a quiet street so no problems with late-night revelers.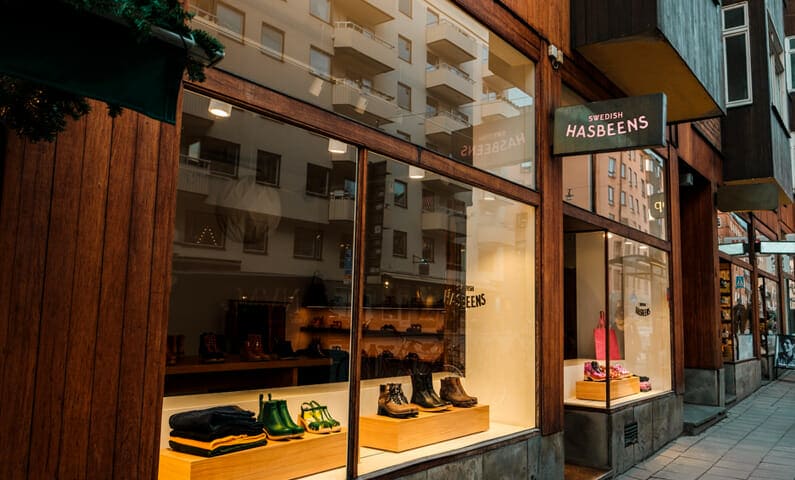 Swedish Hasbeens – products handmade in the old traditional way
Swedes have had a long love affair with clogs, one that stretches back centuries and doesn't show signs of letting up any time soon. Swedish Hasbeens has taken the traditional Swedish clog and made it modern – without losing that quirky charm that has both men and women wearing them today.
Grandpa is one of SoFo's most famous stores and ever since 2003, they've offered Stockholmers and everyone else who likes the Nordic lifestyle a selection of Scandinavian and international fashion and
inrerior design products
. Here you'll find clothing, shoes, bags, sunglasses, watches, jewelery and other accessories for both men and women. If you're more into interior design, you'll find stylish and timeless products for any room of your home or the office. The store places high demands on quality and sustainability so you get products that you can have for a long time. Grandpa also has a shop on Gamla Brogatan in the city center.
Katarina Church – Photo: © Amlan Chakraborty/Wikimedia
Katarina Kyrka is arguably the most beautiful church in Stockholm. Parts of the building date to the 18th century and the area has been home to churches since the 14th century. Concerts – both at lunch and in the evening – are often held here and the grounds are peace personified.
Have a 'fika' at Café String
Like food? Like antiques? Welcome to the always charming Café String, where everything from the furniture to the fixtures is for sale. Bartering is also welcomed, and the warm, friendly atmosphere is enhanced by regular concerts and exhibitions. Did we mention they also have a pretty killer menu? Hint: go there for breakfast.
And the Revolution on Åsögatan is heaven's place on earth for those who enjoy riding a bike – whether you are an enthusiast who sees Stockholm's streets as your own Tour de France or a beginner cyclist who wants to get started on two wheels. And here you get an extraordinary bicycle – genuine quality bikes that ATR themselves designed, developed, and built. Stylish, functional, durable, and easy to use – you can hardly find a better bike. The shop also offers bicycle parts, helmets, clothes, and bags. In short, everything a cyclist in Stockholm needs.
Hard to believe but Swedes love surf culture, and 6/5/4 is a lifestyle store reflecting that love. In addition to all the usual surfie gear, you can also grab tents, thermoses, books… and a fantastic cup of espresso at the shop's café. Surf's up!
We hope you have a great time visiting Stockholm's trendy SoFo!
Find the SoFo gems on the map
| Title | Address | Description |
| --- | --- | --- |
| | Bondegatan 48, 116 33 Stockholm, Sverige | Bondegatan 48 |
| | Nytorgsgatan 30, 116 40 Stockholm, Sverige | Nytorgsgatan 30 |
| | Nytorget, Stockholm, Sverige | |
| | Östgötagatan 64, 116 64 Stockholm, Sverige | Östgötagatan 64 |
| | Nytorgsgatan 36A, 116 40 Stockholm, Sverige | Nytorgsgatan 36A |
| | Södermannagatan 21, 116 40 Stockholm, Sverige | Södermannagatan 21 |
| | Högbergsgatan 13A, 116 20 Stockholm, Sverige | Högbergsgatan 13 |
| | Nytorgsgatan 38, 116 40 Stockholm, Sverige | Nytorgsgatan 38 |
| | Åsögatan 122, 116 24 Stockholm, Sverige | Åsögatan 122 |
| | Nytorgsgatan 27, 116 40 Stockholm, Sverige | Nytorgsgatan 27 |
Find the SoFo gems on the map
| Title | Address | Description |
| --- | --- | --- |
| | Bondegatan 48, 116 33 Stockholm, Sverige | Bondegatan 48 |
| | Nytorgsgatan 30, 116 40 Stockholm, Sverige | Nytorgsgatan 30 |
| | Nytorget, Stockholm, Sverige | |
| | Östgötagatan 64, 116 64 Stockholm, Sverige | Östgötagatan 64 |
| | Nytorgsgatan 36A, 116 40 Stockholm, Sverige | Nytorgsgatan 36A |
| | Södermannagatan 21, 116 40 Stockholm, Sverige | Södermannagatan 21 |
| | Högbergsgatan 13A, 116 20 Stockholm, Sverige | Högbergsgatan 13 |
| | Nytorgsgatan 38, 116 40 Stockholm, Sverige | Nytorgsgatan 38 |
| | Åsögatan 122, 116 24 Stockholm, Sverige | Åsögatan 122 |
| | Nytorgsgatan 27, 116 40 Stockholm, Sverige | Nytorgsgatan 27 |